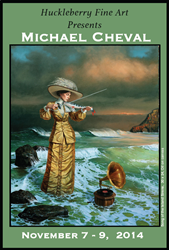 It does not emerge from the dreams of surrealists, or the work of the subconscious. It is a game of imagination, where all ties are carefully chosen to construct a literary plot
Washington, DC (PRWEB) October 27, 2014
Washington D.C. Fine Art Gallery, Huckleberry Fine Art Gallery, is thrilled to host the work of one of the world's most talented living surrealists, Michael Cheval. The Gallery will showcase Cheval's work during an open house and host a meet and greet "Cider & Caramel Reception", November 7 to November 9. The reception and open house are free of charge, but the Gallery strongly recommends RSVP.
Absurdist artist, Michael Cheval, will be available to meet and discuss his artwork with guests of Huckleberry Fine Art Gallery on November 7 – November 9. The Gallery will provide hot apple cider and caramel inspired treats at the "Cider & Caramel Reception" November 7 and 8 from 7pm – 11 pm. The Michael Cheval Open House will take place November 8 and 9 from 12pm – 11 pm and 11 am – 4:30 pm respectively.
Michael Cheval is the world's leading contemporary artist, specializing in absurdist's paintings, drawings, and portraits. Cheval's art is well-known for its technical prowess, grandeur, and originality. He draws his inspiration from the styles of two Surrealists, Salvador Dali and Rene Magritte.
Cheval defines absurdity as the reverse side of logic, "It does not emerge from the dreams of surrealists, or the work of the subconscious. It is a game of imagination, where all ties are carefully chosen to construct a literary plot." Absurdity is a starting point of his creations, but his work is often metaphorical and each piece tells a unique story.
The event is free and open to the public, but RSVP is strongly recommended. With questions or directions please call at 301-881-5977 or email at info(at)huckleberryfineart(dot)com
About Huckleberry Fine Art
As the premier art gallery in the Washington, D.C., metropolitan area, Huckleberry Fine Art specializes in finding emerging artists locally and internationally. Since its existence, the gallery has been exhibiting a vast collection of vibrant oil and acrylic paintings, limited edition signed and numbered prints, sculpture, photography, art books and custom framing. Huckleberry Fine Art has established a successful publishing division with the introduction of artist Rob Gonsalves' limited edition prints. For more information, visit HuckleberryFineArt.com.