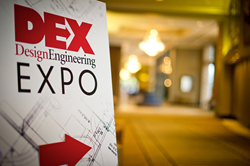 East Providence, Rhode Island (PRWEB) October 23, 2014
Celebrating their 50th year of innovating "Motion Plastics," igus will be displaying their lines of dry-tech® bearings and "the-chain" Energy Chain Systems at the tabletop display of DEX 2014. igus invites engineers and designers to stop by with questions, and to pick up and learn first-hand the new power of engineered plastics.
On Display
At DEX, igus will display their lines of plastic cable carrier systems, including the E4-1 system, which is suitable for a vast range of applications. Claiming to make moving energy easy, the E4-1 system combines all the benefits of its three predecessors in the E4 range. E4-1 cable carriers offer greater stability with the same or smaller dimensions while almost all the accessories and mounting brackets are the same.
Also on display will be a range of dry-tech bearings with a wide range of abilities for nearly any application. All igus bearings are completely self-lubricating, and necessitate little to no maintenance for their entire lifetime. More than 30 different materials are available to suit any application requirements. Sample dry-tech boxes, with 46 different bearings inside, will be available at the show as well.
For more information about igus or any of its products, please visit http://www.igus.com.
About igus®
igus® develops industry-leading Energy Chain® cable carriers, Chainflex® continuous-flex cables, DryLin® linear bearings and linear guides, iglide® plastic bushings, and igubal® spherical bearings. These seemingly unrelated products are linked together through a belief in making functionally advanced, yet affordable plastic components and assemblies. With plastic bearing experience since 1964, cable carrier experience since 1971 and continuous-flex cable since 1989, igus provides the right solution from over 80,000 products available from stock. No minimum order required. For more information, contact igus at 1-800-521-2747 or visit http://www.igus.com.