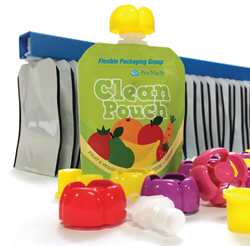 Our customers receive best-in-class solutions for their unique environments, and the Flexible Packaging Group can also provide a one-stop shop for an integrated solution upstream and downstream of the bag and pouch machines. — Troy Snader, Sr. VP Pro Mach
Cincinnati, OH (PRWEB) October 23, 2014
Pro Mach has signed an exclusive North American distribution agreement with FLtècnics of Girona, Spain, one of Europe's leading horizontal form-fill-seal pouch making companies. This agreement and the addition of Benchmark Automation's horizontal form-fill-seal pouch making machinery significantly expand the Flexible Packaging Group's portfolio of solutions. (Matrix Pack Expo Booth # N-5321)
FLtècnics offers horizontal form-fill-seal pouch making technology in both carrousel and walking-beam styles. These servo-controlled machines are capable of speeds of up to 400 units per minute for liquids, powders, and granules. Formats include zipper, Velcro, three sided pouches, and more.
On display at Pack Expo will be an FLtècnics machine that forms, fills, and seals both top- and corner-spout pouches on one machine. Sales, service, and spare parts will be handled from the Matrix Packaging Machinery facility in Saukville, Wisconsin.
Through the recent acquisition by Pro Mach of Benchmark Automation, the Flexible Packaging Group now offers Benchmark's horizontal form-fill-seal pouch machines, including zippered pouch solutions. These rugged machines are ideal for small to mid-sized companies looking for production speeds of up to 70 pouches per minute.
"The Pro Mach Flexible Packaging Group now offers one point of contact for a host of flexible packaging solutions," said Troy Snader, Senior Vice President, Flexible Packaging Group. "Our customers receive best-in-class solutions for their unique environments, and the Flexible Packaging Group can also provide a one-stop shop for an integrated solution both upstream and downstream of the bag and pouch machines. Importantly, customers receive Pro Mach ProCustomer support, one of the most thorough and comprehensive after sales support programs available."
Pro Mach Flexible Packaging Group Solutions on Display at Pack Expo
In addition to the FLtècnics machine displayed at the Matrix booth # N-5321, Matrix will demonstrate the new Morpheus box-motion vertical form-fill-seal machine capable of speeds of up to 180 bags per minute at widths ranging from 2 to 12 inches wide. Matrix also showcases the new Apollo high-speed intermittent vertical form-fill-seal machine rated at speeds of up to 150 bags per minute. Both machines are based on the company's next generation servo motion control platform, which debuted at Pack Expo 2013 with the introduction of the Metis intermittent/continuous motion vertical form-fill-seal machine.
Visitors to the booth will see a Toyo Jidoki rotary TT-15CW10 filling liquid into and capping premade spouted pouches. This solution was designed to provide manufacturers in the baby food, fruit purees, and yogurt markets with a reliable and accurate alternative to existing fill-through-the-spout pouch machinery. The unit at the show is rated at up to 95 pouches per minute. Similar Toyo Jidoki machines can reach speeds of up to 160 pouches per minute.
The Inever BY300 forms, fills, and seals three-sided stickpacks from 7 lanes to 1 lane, depending on the stick's width. The standard version is available from 17mm stick width and 7 lanes to 45 mm and 3 lanes. This machine is designed for small and medium output environments or as laboratory equipment, suitable for dosing powders, granules, solids, liquids, and pasty products.
The Inever SP800 is built for medium to high output environments. This three-sided stickpack machine is capable of producing sticks from 13 mm wide and 20 lanes to 45 mm wide and 8 lanes. Depending on additional accessories the SP800 is suitable for dosing liquids, powders, granules, solids, and pasty products for the cosmetics and food sectors. Optional equipment includes: Laser, ink jet, hot foil, and TTO printing; pre-notching by laser for integrated easy opening; and transfer equipment to cartoning machines.
For more information on Pro Mach Flexible Packaging Group solutions, including bags, pouches, stickpacks, sachets, sleeves, and bundles from its trusted brands Matrix Packaging Machinery, Toyo Jidoki, Inever, FLtècnics, Rennco, Tekkra, and Benchmark Automation, call 888-628-7491 and visit http://www.ProMachFlexible.com.
About Pro Mach
Pro Mach is a leading provider of integrated packaging and processing products and solutions for food, beverage, consumer goods, pharmaceutical, and other diverse companies. Through its brands, Pro Mach provides product packaging and processing equipment, PMMI certified training, installation, parts, and service in Bottling & Capping, Primary Packaging, Flexible Packaging, Material Handling, Identification & Tracking, and End-of-Line Packaging.
Pro Mach has a diverse customer base, from Fortune 500 companies to smaller, privately-held businesses worldwide, which depend on reliable, flexible, technologically advanced equipment and integrated solution sets. Pro Mach is headquartered near Cincinnati, Ohio, with manufacturing facilities and offices throughout the United States, Canada, and Europe. For more information about Pro Mach, visit http://www.ProMachInc.com.