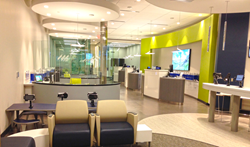 Suitland, MD (PRWEB) October 24, 2014
The future of financial services finally arrived, as Andrews Federal Credit Union (Andrews Federal) celebrated the grand opening of its newest Springfield branch. The festivities included exclusive, special offers available for new members at the branch.
"This branch was designed with the 21st century member in mind, yet is still attractive to our members who prefer a traditional branch experience," said Jim Hayes, President and CEO, Andrews Federal. "We also went to great lengths to ensure our staff was well-trained and ready to provide world-class member service to those who prefer to talk one-on-one."
Located inside the newly renovated Springfield Town Center, the branch features a sleek modern design and an open concept floor plan. Behind the teller pods are four large flat screen televisions displaying everything from extreme sporting events to customized Andrews Federal Credit Union promotions. Just inside the doors you will find an internet café with charging stations and free Wi-Fi, docked smart tablets, and free coffee creating a warm and inviting atmosphere. Directly across from the internet café is a waiting area with plush leather seating, and a high-tech kid's area with docked smart tablets loaded with age-appropriate games and apps.
"The look and feel of this branch is what we envisioned from the start," said Oma George, Chief Retail Officer, Andrews Federal. "We want to stay on the cutting edge of technological advancements as it relates to financial services, and subsequently reach a younger demographic. This branch has managed to accomplish both."
The Springfield branch is located at 6500 Springfield Mall, Springfield, VA 22150. The branch is open 7 days a week, Mon - Fri 10:00 am to 7:00 pm; Sat 10:00 am to 5:00 pm; and Sun 11:00 am to 4:00 pm.
About Andrews Federal Credit Union
Andrews Federal Credit Union was founded in 1948 to serve the needs of military and civilian personnel by providing a vast array of financial products and services. With over $1 billion in assets, Andrews Federal has grown to serve more than 100,000 members in the District of Columbia, Joint Base Andrews (MD), Joint Base McGuire-Dix-Lakehurst (NJ), and military installations in central Germany, Belgium, and the Netherlands. In addition, the Credit Union serves as a financial partner with many select employee groups in Maryland, the District of Columbia, and New Jersey.
To learn more about Andrews Federal Credit Union and its community involvement, or to become a member, call 800.487.5500 or visit http://www.andrewsfcu.org.