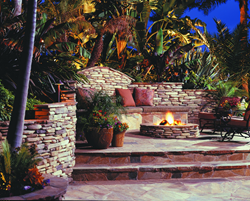 Headwaters Stone Division has a long history of working closely with the country's largest builders -- Headwaters Stone Division President, Brent Spann
San Diego, CA (PRWEB) October 28, 2014
Responding to the needs of builders and developers, Headwaters Stone Division, leading manufacturer of innovative construction products, launches its STONE+ Builder Program designed to fulfill the needs of builder customers on any project, regardless of the complexity or style. Now making it easier than ever to source its hand-crafted masonry, the company offers a single point of contact for all things masonry across its multiple brands.
Buyers in the program have access to bundled packages of the full line of Headwaters Stone Division products, including stone and brick veneer from Eldorado Stone©, Dutch Quality Stone, StoneCraft, as well as Eldorado Fireplace Surrounds, Eldorado Outdoor Signature Kitchens and Artisan Fire Bowls.
"Headwaters Stone Division has a long history of working closely with the country's largest builders," says Headwaters Stone Division President, Brent Spann. "Now, we are excited to launch STONE+, which is designed to make working with Headwaters Stone Division brands simpler and even more valuable."
Participation in the program includes the opportunity to add valuable project upgrades, training on the products' features and benefits, and access to special bundled offers. For more information on the STONE+ Builder Program, builders may call Amy Prevost at 760-330-3777.
ABOUT HEADWATERS INCORPORATED
Headwaters Incorporated is improving lives through innovative advancements in construction materials through application, design, and purpose. Headwaters is a diversified growth company providing products, technologies and services to the heavy construction materials, light building products, and energy technology industries. Through its coal combustion products, building products, and energy businesses, the Company has been able to improve sustainability by transforming underutilized resources into valuable products. For more information, visit http://www.headwaters.com.