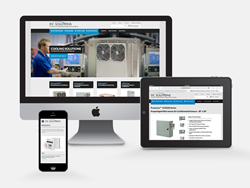 We have updated the look and feel of our site to represent a more modern brand and suit our audience whether they use a tablet or mobile device.
Warminster, PA (PRWEB) October 29, 2014
EIC Solutions, a leading manufacturer of thermoelectric air conditioners, electronic enclosures and transit cases, has announced today the launch of a newly designed website, which provides users with important company information including products, services, applications and specifications. The new website is a responsive design, optimized for viewing on any device or screen size to fit a growing mobile audience.
"We have updated the look and feel of our site to represent a more modern brand and suit our audience regardless of the device they are using," said Gerald Roche, CEO at EIC Solutions, "Whether on a tablet or mobile device, our visitors will be able to access the important product information they need, and can easily connect with EIC Solutions through new contact and RFQ forms."
The new site offers expanded product information on EIC's complete line of cooling solutions for electrical and electronic enclosures. The updated design incorporates several new features to allow users to smoothly and easily navigate the site as well as to quickly learn more about EIC's products in order to make a purchase decision. To facilitate product selection, users will have the ability to search by specifications such as air conditioner cooling capacity, enclosure size and NEMA rating. By simply registering on the site, users will gain immediate access to pricing on standard products and can request quotes on custom products and a wide range of options. Those desiring application information can view an extensive "Markets Section" featuring job stories detailing how EIC's products have been used to solve a wide range of cooling problems. In addition, a new "Resources Section" enables quick access to product manuals, literature and engineering drawings.
The new site also offers users who are unsure about their exact cooling needs the ability to place an online air conditioner sizing request. Upon receipt, EIC engineers will evaluate the customer's requirements including heat load generated by the equipment, enclosure size and environmental factors such as ambient temperature and enclosure location (indoors, outdoors, full sun, shade, etc.) in order to determine the required cooling capacity for the application. EIC's recommended solution may include a thermoelectric or compressor-based air conditioner matched to the customer's enclosure or a complete package featuring a NEMA electrical/electronic enclosure and a built-in air conditioner.
For more information please contact EIC Solutions, Inc., 700 Veterans Way Ste. 200, Warminster, PA 18974 USA. Phone: 215-443-5190. Fax: 215-443-9564.
email: info(at)eicsolutions(dot)com Web site: at http://www.eicsolutions.com.
###
About EIC Solutions, Inc.
EIC Solutions, Inc., is a leading global provider of cooling and protection solutions for electronics and equipment. Since 1988, EIC has specialized in the design and manufacture of thermoelectric cooling systems for a wide range of applications in the industrial, commercial, military and defense, security and surveillance, oil and gas, infrastructure, food processing/packaging, sports and entertainment and amusement and theme park markets. EIC thermoelectric air conditioners, air conditioned enclosures and air conditioned transit cases meet application requirements for housing and cooling electronics and equipment -- both stationary and mobile -- in harsh indoor as well as outdoor environments. In addition to pre-packaged solutions, EIC can create custom engineered products designed to meet unique application needs. Flexible production capabilities enable EIC to provide standard and custom solutions for orders ranging from a single piece up to large-scale production rollouts. EIC's customers include Fortune 100 companies, all branches of the military and government agencies.