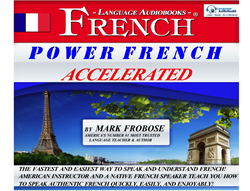 Language Audiobooks programs can also be purchased online and emailed as holiday gifts through Audible.com
Champaign, IL (PRWEB) October 28, 2014
Mark Frobose, polyglot founder of LanguageAudiobooks.com, announced today to all who wish to learn French that their confusion concerning French verb conjugation is coming to an end.
Mon Dieu!
How can that be?
Frobose, who is the bestselling author of Power French I Accelerated says that his short YouTube video entitled "French Verbs in 2 Minutes Lesson #1" is so easy that anyone can learn how to do it.
"I thought it was time to help the struggling French students of the world with a fast and easy explanation of French verbs," says the bestselling author of French for Travel and Eating Out.
"The motto of our company is 'Learn Languages Everywhere™'," states Mark Frobose, who also created Smartphone French Intensive.
Mark Frobose, who is also the bestselling author of Clean French Slang, created LanguageAudiobooks.com to make language learning fast, easy, and affordable for everyone. Their all-audio digital language programs are easily downloaded to any smartphone or computer and are all priced below $20.00.
Language Audiobooks programs can also be purchased online and emailed as holiday gifts through Audible.com