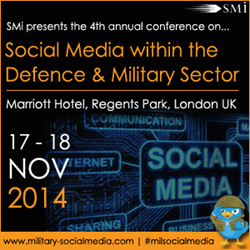 London, UK (PRWEB UK) 24 October 2014
The social media phenomenon has created an emerging and critical communications platform which has, in turn, become a valuable strategic resource for today's defence community. Beyond the enhancement of civil-military engagement, recruitment opportunities and internal and strategic communications, the utilisation of social media can also be a major contributor to mission success.
Whether you are looking to mine social data, co-ordinate social media efforts, track foreign fighters or develop campaign strategy, Social Media within Defence and Military 2014 will draw from expert opinions, showcase the latest technology and inform attendees of new platforms and how to use them to an advantage from a military and defence perspective.
Key Speakers Include:

Cathy Milhoan, Deputy Director, U.S Department of Defence Social Media, Defense Media Activity
Steven Mehringer, Head of Communication Services, Public Diplomacy DIVISION, NATO HQ
Lieutenant Michael Quinn, Royal Navy Media Plans Officer, European Union Naval Force
April Deibert, Program Manager, CTP Inc - West Africa Regional Training Center, in support of the U.S. Department of State
Chris Stace, Project Officer Information Management and NEC, European Defence Agency
Dana Manescu, Head of Sector, Social Media, European Commission
Ruth Powell, Armed Forces Engagement Manager, Royal British Legion
Erik Lagersten, Director, Communication and Public Affairs, Swedish Armed Forces
Click here to see the full speaker line-up for 2014
Featured event content is also available to read in the event download centre.
Some of the confirmed attendees include:
3i-MIND Technologies GmbH
Airbus Group UK
Army Head Quarters
Board on Behavioral, Cognitive, and Sensory Sciences
Defence Intelligence And Security Centre
Department of Defense Social Media
Department Of State USA
DND - Public Affairs
DSTL
Embassy of Ukraine
ESG GmbH
EU Naval Force
European Commission (DG COMM)
European Defence Agency
Fieldcraft Studios
Finnish Defence Forces
Government of Singapore
IBM UK
Joint Defence Staff
LGEOResearch
Lockheed Martin
M&C Saatchi
Maritime Security Centre – Africa
Market Wired
MINDEF/SAF
Ministry Of Defence
MOD
National Research Council
NATO ACT
NATO Headquarters
Nigeria Customs Service
Norwegian armed forces
Norwegian National Security Authority
Royal Air Force High Wycombe
RUAG Defence
Sabre DRM
SHRM
Singapore Armed Forces
Swedish Armed Forces
Texifter LLC
The Norwegian Army
The Royal British Legion
For further details and to secure a spot visit http://www.military-socialmedia.com
Social Media within the Defence and Military Sector
17th & 18th November 2014
Marriott Hotel, Regents Park, London UK
http://www.military-socialmedia.com
#milsocialmedia
---END---
About SMi Group:
Established since 1993, the SMi Group is a global event-production company that specializes in Business-to-Business Conferences, Workshops, Masterclasses and online Communities. We create and deliver events in the Defence, Security, Energy, Utilities, Finance and Pharmaceutical industries. We pride ourselves on having access to the worlds most forward thinking opinion leaders and visionaries, allowing us to bring our communities together to Learn, Engage, Share and Network. More information can be found at http://www.smi-online.co.uk