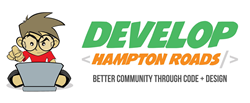 The idea of helping create an innovative solution to a community problem was a really cool concept.- Fred Rose
Norfolk, VA (PRWEB) October 24, 2014
Dominion Enterprises and the local Code for America Brigade, Code for Hampton Roads teamed up for a civic hackathon event at the Dominion Enterprises offices in Norfolk, Va. on October 16-17. The event centered around developing an application or website designed to better the Hampton Roads community in various aspects.
The winning team, Parkupine, developed an application to help downtown Norfolk visitors easily find parking spots through a phone application and automated texting service. Parkupine stayed true to their slogan, "Taking the pain out of Downtown Norfolk parking."
Parkupine teammate Fred Rose, a professional marketing consultant, and his team used their skills to come up with a winning combination. "The idea of helping create an innovative solution to a community problem was a really cool concept. There is significant potential to add widgets to local business and city websites -- placing Parkupine logos that link directly to available parking spaces nearby," Rose said.
Parkupine teammates received Pebble Watches and three months of workspace at Hatch in Downtown Norfolk. Hatch is an entrepreneurship and innovations accelerator which will offer the team a space for further app development and collaboration.
Develop Hampton Roads was open to the public and brought in participants with varied backgrounds and experiences. It included everyone from students looking for internships or future job opportunities, to local citizens who wanted to network and make a difference.
The "Curb Appeal Award" for best design was awarded to team C.R.E.A.M. "Beacon" is designed to route and rate biking trails in Virginia Beach. It gives bikers information about scenic routes, high risk terrains, and crime-prone areas.
Other websites or applications earning awards included "Civic Starter," a website which can be used as a platform to fund, support, petition and engage citizens who need government contact and attention. The "Open Child Care Center" website uses public information to give Hampton Roads parents online access to ratings of children's preschools or day care centers.
More than 100 participants and volunteers from Dominion Enterprises' Technology Talent Acquisition Group (TTAG) and the Code for Hampton Roads brigade were involved with the event. Chris Conway and Matt Strapko of Dominion Enterprises co-chaired the event.
Judges for Develop Hampton Roads were Joe Fuller, chief information officer of Dominion Enterprises; Blaine Price, Code for Hampton Roads captain; Jesse Scaccia, editor-in-chief at AltDaily; Chris Bonney, owner of Bonney & Co. and board member of Hampton Roads Center for Civic Engagement; and David Sullivan, CIO of the City of Norfolk.
Winning Teams were:
Team Parkupine
Team Civic Starter
Team C.R.E.A.M
Team Ghost
About Dominion Enterprises
Dominion Enterprises is a leading marketing services and publishing company serving the automotive, recreational and commercial vehicle, real estate, apartment rental, parenting, and travel industries. Headquartered in Norfolk, Virginia, with 3,300 employees in the United States, Canada, England, Spain and Italy, the company provides a comprehensive suite of technology-based marketing solutions, and more than 45 market leading websites. Millions of For Rent® and HotelCoupons.com® publications are distributed across the U.S. each year.
About Code for America Brigade
The Code for America Brigade is a group of dedicated volunteers that contribute their talents toward improving the way local governments and community organizations use the web. Their local brigade, Code for Hampton Roads, is located inside Hatch on Granby Street in downtown Norfolk.