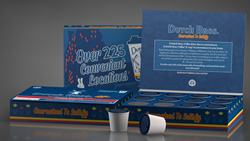 Dutch Bros. Coffee just became more convenient with the addition of DB Cups.
GRANTS PASS, Ore. (PRWEB) October 26, 2014
Dutch Bros. Coffee is excited to announce the November 3, release of Single-Serve DB Cups compatible with Keurig-style brewers.
Now, get your favorite coffee for use at home, office or wherever your travels take you. The Dutch Bros. single serve cups will be available exclusively at Dutch Bros. locations and online at shop.dutchbros.com. The 12-count box will sell for $10.00.
On Monday, November 3rd, stop by any location and receive a free sample 4-pack with any purchase, while supplies last.
"We have had requests for DB Single-Serve Cups for some time, and it is super awesome to be able to fulfill that request from our customers," said Dutch Bros. Coffee Co-founder, Travis Boersma. "You can be a hero by picking up a package and taking it home or to the office."
"It's an awesome way to gift Dutch Bros. to friend and family that may not be near a Dutch Bros. stand," said Andy Conway, Vice-President of Operations, Dutch Bros. Coffee.
Dutch Bros. Coffee continues to grow and now has 233 stores in seven states. With over 20 years in the business, Dutch Bros. is happy to thank loyal fans, dubbed the "Dutch Mafia" for its continued growth and success. "I am super pumped that our customers can enjoy some Dutch Love at home or work," said Travis.
###
About Dutch Bros. Coffee
Dutch Bros. Coffee is the country's largest privately held, drive-through coffee company, with over 230 locations and over 2,500 employees in seven states.
Serving specialty coffee drinks, smoothies, freezes, teas and a private-label Dutch Bros. Blue Rebel™ energy drink, Dutch Bros. is known for a special focus on its communities and customers.
Dutch Bros. Coffee was ranked by J.D. Power and Associates as highest in customer satisfaction compared to other coffee companies in its 2012 and 2013 Specialty Coffee Retailer Satisfaction Reports.
The company and its local owner-operators donate over $1 million annually in an effort to achieve their goal of, "Making a difference, one cup at a time."
Dutch Bros. Coffee is headquartered in Grants Pass, Ore., and was founded in 1992 by dairy farmer brothers of Dutch descent. To learn more about Dutch Bros., visit http://www.dutchbros.com, http://www.facebook.com/dutchbros or @DutchBros on Twitter.