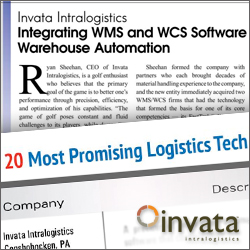 We are happy to be recognized as a leading provider of end-to-end, purpose-built warehouse automations systems.
Conshohocken, PA (PRWEB) October 27, 2014
Invata Intralogistics, Inc., specialists in warehouse automation and the warehouse software and controls that drive them, announced today that is has been selected as one of the 20 Most Promising Logistics Tech Solution Providers by CIO Review Magazine.
To compile their list, the editors of CIO Review looked at hundreds of logistics solution providers at the forefront of tackling supply chain challenges for retailers, manufacturers, and suppliers. The companies selected are considered to be leading the way in 2014 through their use of technology to solve logistics challenges while supporting the core business processes of their clients.
In announcing its list, the publication ran an in-depth article on Invata Intralogistics, featuring it as a multi-disciplined, singularly focused company incorporating all the expertise required for the design, integration, and support of warehouse automation systems under one roof. In doing so, the publication highlighted Invata's mission to eliminate the frustrating customer experience that often accompanies intralogistics solutions provided by a market fragmented between Warehouse Management System suppliers, Warehouse Control System suppliers, and material handling equipment suppliers.
"We are proud to be included in the 20 Most Promising Logistics Tech Solution Providers list," said Jay Moris, Invata CMO, "and happy to be recognized as a leading provider of end-to-end, purpose-built warehouse automations systems. The range of tech solutions Invata provides and fully supports on a 24/7 basis solve all the automation and logistics challenges between the four walls of a distribution or fulfillment center. They include automated storage and retrieval systems, conveyor systems, sortation systems, order fulfillment systems, and all the warehouse software, controls, and devices needed to seamlessly meld them into one cohesive solution."
About Invata Intralogistics
Invata Intralogistics, Inc. is an authority in the design, implementation, and life cycle support of automated fulfillment and distribution center operations with demonstrable expertise in both software and systems engineering and development.
Specializing in the symbiotic integration of the flow of information with the flow of material goods, Invata offers complete warehouse automation solutions that begin with in-depth operational analysis and end with purpose-built, turnkey intralogistics systems that optimize processes and resource utilization while maximizing operational efficiency.
The result is a seamless synthesis of process and technology that engenders leaner, more productive, more adaptable, and more profitable fulfillment and distribution enterprises.