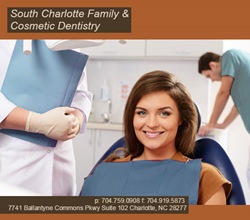 Remember CEREC Crowns = Same Day Recovery From Damaged Crown Issues. Dr. Wells - Dentist in Ballantyne NC
Charlotte,NC (PRWEB) October 27, 2014
As Americans increase their consumption of sugary sweets during the holiday season the potential for cavities and chipping a tooth also increases, according to the American Dental Association. "It's no coincidence that Dental Hygiene Month is at the beginning of the holiday season which typically means an increase in crown work due to sticky candies and holiday treats," says Dr. Wells, "We always see an increase in new patients from Halloween through Christmas. "
South Charlotte Dentistry offers a variety of services to repair cavities, cracked teeth, and missing teeth. "We see an increase in chipped and cracked teeth this time of year due to the increase in eating hard candies, nuts and other foods," explains Dr. Wells. When a patient cracks their tooth on a piece of candy or popcorn kernel, a dentist typically fixes the damaged tooth with a dental crown, also known as a cap. A dental crown is a prosthetic treatment for a broken, chipped, or badly decayed tooth.
South Charlotte Dentistry offers traditional crowns, but Dr. Wells often recommends the CEREC crown, also known as the Same Day Crown. The CEREC crown is a breakthrough technology that allows Dr. Wells to quickly restore damaged teeth with natural-colored ceramic fillings, saving his patients time and money. This digital tooth repair technology uses a computer scan to make an exact replacement tooth cap out of high performance polymer material. CEREC Crown Technology is digital tooth repair that uses a camera, computer and milling machine, all in one instrument. After a picture is taken of the damaged tooth, this picture is transferred and displayed on a color computer screen. The CEREC Machine mills the crown material down with incredible accuracy. Dr. Well is able to design the restoration (new tooth) making an exact replacement tooth cap out of high performance polymer material. No temporary crowns, no messy molds or impressions, and practically pain free.
Dr. James Wells is now accepting new patients and offering a discount in October in honor of Dental Hygiene Month. He reminds his patients that good oral hygiene is essential to avoid more problems later. "Dental Hygiene Month aims to bring awareness to good oral health practices, but also encourages people to get their teeth examined by a professional," explains Dr. Wells.
South Charlotte Dentistry is located at 7741 Ballantyne Commons Pkwy Ste 102 Charlotte, NC 28227, or visit their website at http://www.southcharlottedentistry.com for more information. They offer new patient specials and pride themselves on short wait times.