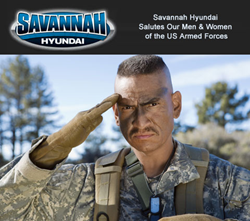 We feel honored to cater to our men and women of the armed services. -- Mark Medinger, Savannah Hyundai, GA
Savannah, GA (PRWEB) October 28, 2014
Savannah Hyundai has renewed their commitment to Hyundai's Military Discount program. The program offers Active Duty, Reservists/National Guard, Veteran, or retired U.S. military personnel an additional $500 off all 2014 and 2015 model year new Hyundai vehicles.
Savannah Hyundai is proud to participate again in the Military discount. "With Hunter Army Airfield just behind us and Fort Stewart down the road, we feel honored to cater to our men and women of the armed services," says Mark Medinger, owner of Savannah Hyundai. "We hope that the additional $500 off will help our soldiers afford a little bit more car than they expected."
Hyundai has long history of supporting the U.S. military. In 2013, U.S. Veterans Magazine ranked Hyundai Motor American among the nation's top veteran-friendly companies. Not only does Hyundai strive to employ veterans and their spouses, their military discount accounted for over $24 million in rebates to U.S. military and their families in 2013.
"At Savannah Hyundai, we have a lot of veterans and active duty come in, and we are pleased to offer this discount to them for all their hard work," says Medinger. The Military Discount offer is valid from October 1, 2014 through January 2, 2015. It is available on any new 2014 or 2015 Hyundai vehicle. "Our inventory is always increasing and we can special order colors and trims at no additional cost," says Medinger.
Currently, available on their lot is the 2014 Santa Fe Sport which was named the "Family Car of the Year" by the Cars.com. "A lot of military personnel are looking for a family car, but don't want a minivan. The Santa Fe Sport is practical and fun," explains Medinger. Of course, Savannah Hyundai also provides vehicles for those without a family. The 2014 Hyundai Veloster and Hyundai Genesis Coupe are two examples of more stylish vehicles.
For more information on the military discount program or the Hyundai Santa Fe Sport, contact Savannah Hyundai at 912-352-4747or visit their website. Check out their inventory online or stop by their dealership located at 7011 Abercorn St Savannah GA 31406. Savannah Hyundai serves the Savannah area including Statesboro, Hilton Head, Rincon, Ft. Stewart, and Bluffton.