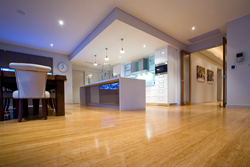 (PRWEB) October 28, 2014
BamboofloorChina.com, one of the most popular suppliers of bamboo products, has unveiled its fresh range of high quality bamboo veneers. Furthermore, the firm has decided to offer big savings, up to 29% off, on all these excellent products. Customers throughout the world can enjoy the special offer from today unveil November 06.
The company's sales representative says happily, "We are excited to announce our new collection of bamboo veneers for clients. We launch the current promotion to expand the online market. You know, online shopping plays an important part in our business nowadays. Also, we want to bring more benefits to our loyal customers. In addition to veneers, we are also selling many other useful products online at http://www.bamboofloorchina.com/. "
It is worth mentioning that BamboofloorChina.com is an industry leader in the global market; the best thing about the company is that its experienced specialists are always working hard to provide clients with the most practical items. They often make marketing research to learn the latest requirements of different people.
Last but not least, a lot of clients have found their dream items on the company's website. BamboofloorChina.com understands the importance of its bamboo products and online services, and it holds that responsibility with the utmost seriousness.
About BamboofloorChina.com
BamboofloorChina.com is an experienced manufacturer and retailer of elegant bamboo products. The company is offering a wide variety of useful items for its clients, including plywoods, strand woven floorings, lumbers, outdoor deckings and fences. The supplier hopes to facilitate worldwide people by providing all kinds of high quality bamboo items.
For more details about the company and its new items, customers can visit: http://www.bamboofloorchina.com/products/bamboo-veneer.html.