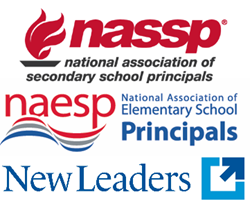 It is critical that principals share how their leadership is key to the success of any education reform and receive ongoing support for their efforts to help every student succeed.
Alexandria, Virginia (PRWEB) October 27, 2014
The National Association of Elementary School Principals (NAESP), the National Association of Secondary School Principals (NASSP), and New Leaders commend the dozens of high-ranking officials from the U.S. Department of Education (ED) who will shadow Pre-K-12 principals in the Washington, D.C. area this week and support continued focus on school leadership. The goal of the shadow effort is to gain a better understanding of the role of instructional leaders and look at policy, programs, and resources that are needed to do the job successfully. The shadow visits mark a continued celebration of National Principals Month in October.
The visits will be followed by a briefing facilitated by U.S. Secretary of Education Arne Duncan. ED staffers participated in a similar activity over the past two years, which led to the creation of the Principal Ambassador Fellowship program. Jill Levine, the 2014-2015 Campus Principal Ambassador Fellow and principal of Normal Park Museum Magnet, a Pre-K through eighth-grade school in Chattanooga, TN, coordinated key visits on behalf of the agency.
"We are excited that U.S. Department of Education officials are taking the time to gain this first-hand knowledge of the role of principals," said NASSP Executive Director JoAnn Bartoletti. "It is our hope that the shadowing visits will help these officials when it comes to federal policy decisions and finding ways to best support our nation's principals and the schools they lead."
The shadowing events will culminate in an afternoon debriefing session with Secretary Duncan at the Department's headquarters on Thurs., Oct. 30, where the participating principals will gather with the ED officials to share their experiences and talk about lessons learned. Being shadowed allows principals the opportunity to share daily challenges and successes with policymakers and to provide the principals' perspective on federal policy, programs, and resources that are currently needed to help them lead learning communities.
"The shadow visits will showcase the increasingly complex and multifaceted role of principals and how their role has been impacted by federal policies and programs, such as teacher evaluation and implementation of college and career readiness standards," said Gail Connelly, Executive Director of NAESP. "It is critical that principals share how their leadership is key to the success of any education reform and receive ongoing support for their efforts to help every student succeed."
Officials in regional ED offices will also be shadowing principals around the country throughout the week.
National Principals Month is a time to celebrate the role of principals in raising student achievement and improving schools, while also reminding the public of the need for greater support in leadership development to ensure principals have the resources they need to be successful.
"Simply put, all school improvement efforts have to start with the principal," said Jean Desravines, CEO of New Leaders. "School leaders are responsible for developing and supporting our nation's teachers and for building schools that support great teaching, meaningfully engage families and communities, and foster the academic achievement and social development of our kids. We are thrilled the Department is shining a spotlight on this important role."
About NAESP
Established in 1921, the National Association of Elementary School Principals (NAESP) leads in the advocacy and support for elementary and middle school principals in the United States and internationally. NAESP supports principals as the primary catalysts for creating lasting foundations for learning through policy development, advocacy, professional development programs, and resources for effective instructional leadership. NAESP advances the profession on behalf of all principals, providing specialized support and mentoring for early career principals. Key focus areas include preK–3 education, school safety, technology and digital learning, and capacity-building educator evaluation. For more information about NAESP, please visit http://www.naesp.org. NAESP administers the National Principals Resource Center and the American Student Council Association.
About NASSP
NASSP is the leading organization of and voice for middle level and high school principals, assistant principals, and school leaders from across the United States and 35 countries around the world. The association provides research-based professional development and resources, networking, and advocacy to build the capacity of middle level and high school leaders to continually improve student performance. Reflecting its longstanding commitment to student leadership development, NASSP administers the National Honor Society, National Junior Honor Society, National Elementary Honor Society, and National Association of Student Councils.
About New Leaders
New Leaders is a national nonprofit organization that develops transformational school leaders in urban, low-income communities across the country. Since 2000, New Leaders has trained over 1,600 educators who are now impacting the lives of a 350,000 students, measurably raising achievement levels and graduation rates in more than 15 districts and 100 charter schools nationwide. New Leaders further promotes school leadership by publishing research and policy recommendations and by providing support to states and districts on the implementation of effective leadership policies, practices and strategies. To learn more about New Leaders, please visit http://www.newleaders.org.
Contact: NASSP: Bob Farrace, Director, Public Affairs, farraceb(at)nassp(dot)org or 703-674-5614; NAESP: Kaylen Tucker, Assistant Executive Director, Public Affairs and Communications, ktucker(at)naesp(dot)org or 703-518-6257; New Leaders: Kate Gilligan, Executive Director, Marketing, kgilligan(at)newleaders(dot)org or (415) 596-3652.