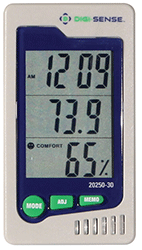 Vernon Hills, IL (PRWEB) October 27, 2014
Digi-Sense, known for accuracy, durability, and reliability, has introduced several new instruments for convenient temperature measurement, equipment testing, and inspection. The "Be Sense-ible™" line from Cole-Parmer contains a full range of environmental and temperature instruments—many with NIST-traceable calibration already completed and ready to use upon arrival. The new items include:
Digi-Sense® Precalibrated Humidity and Temperature Indicator monitors humidity levels and displays temperature and time as well. The Indicator contains a unique environmental comfort indicator.
Digi-Sense® Precalibrated Pocket Thermometers in large head, pen style, and folding probe types take fast and accurate temperature measurements anywhere.
Digi-Sense™ Precalibrated Pocket-Size Moisture Meter measures the moisture level in wood products and hardened materials with one-handed operation.
Digi-Sense™ Precalibrated Digital Contact/Photo Tachometer ensures equipment is in optimal operating condition, eliminating costly repairs.
Digi-Sense™ Borescope and Video Borescope are ideal for inspecting ductwork, wiring, piping, vehicles, and other hard-to-reach areas.
To view the full line of Digi-Sense products, go to ColeParmer.com/21265. For more information or help in selecting a product for a specific application, call 800-323-4340.
Cole-Parmer has been a leading global source of laboratory and industrial fluid handling products, instrumentation, equipment, and supplies since 1955. Our product lines, including popular brand names such as Masterflex®, Oakton®, Digi-Sense™, and more, are sold through company-owned customer channel outlets and a strong network of international dealers. We also feature an ISO17025-accredited metrology lab for instrument calibration and repair. Cole-Parmer responds with excellence to customer needs, and offers application expertise and technical support. For more information, contact Cole-Parmer, 625 East Bunker Court, Vernon Hills, IL 60061. In the US, call 800-323-4340. International customers, call 847-549-7600. Visit us at ColeParmer.com.