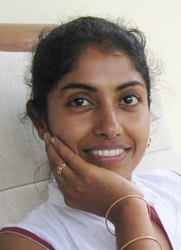 IHYT features a new faculty member based in Bali and specializing in Ayurvedic medicine, Dr. Kekada Sujatha.
(PRWEB) October 28, 2014
Integrated Health Yoga Therapy's (http://www.ihyt.org/) exciting new 300/500 Hour Yoga Therapist Training in Bali starting in April 2015 (http://www.ihyt.org/#!level-1-therapist-bali/c222i) features a new faculty member, Dr. Kekada Sujatha, specializing in Ayurvedic medicine.
Dr. Sujatha is a certified Ayurvedic doctor (B.A.M.S.) and head physician at Amrtasiddhi, the Ayurveda and Yoga Health Centre in the city of Ubud (http://www.amrtasiddhi.com/). She completed her degree in Karnataka, India, and has consulted in Europe and at one of the top health retreats in Asia in addition to practicing at one of the most respected Ayurvedic clinics in Kerala, India. Kekada's warm and caring attitude has combined with a wide range of Ayurvedic knowledge and experience to make her a profound facilitator of various healing experiences for many people. Her knowledge of Yoga, T'ai Chi, and meditation in addition to Ayurveda further enhance her contribution to IHYT's holistic vision of healing through the mindful, conscientious, informed integration of numerous ancient traditions with modern science and medical practice.
Thousands of years old, Ayurveda is not only an ancient system of medicine but a science of life. It includes the use of plant-based medicines, diet, aromatherapy, massage, meditation, detoxification programs, and other treatments. Ayurveda begins, however, with its philosophical foundation of the 3 Doshas, the fundamental energies that govern mind, body, and spirit. In Sanskrit the Doshas are Vata (Wind), Pitta (Fire), and Kapha (Earth), and each of us has a unique balance and proportion of these 3 forces that shapes our character and forms who we are, our strengths, weaknesses, and tendencies. Most people have one or two of these forces in a dominant position. In addition to balance between the 3 Doshas, each one of the Doshas can find either balanced or imbalanced expression within our lives. For example, balanced Kapha or Earth results in a nurturing and grounded personality, but out-of-balance it may promote lethargy, obesity, and sinus congestion.
Ayurvedic practice begins with determining the ideal state of balance unique to the individual patient, then determining where the individual is out of balance and what treatments can help. Individual treatments may be aimed at individual conditions but from a holistic standpoint the ideal state of balance and complete health and wellbeing of the individual are always at the heart of Ayurvedic treatment.
Another main cause of dis-ease, in Ayurvedic tradition, is the build-up of toxins in the human body. The presence of toxins can result in low energy, digestive issues, and lack of mental alertness.
Dr. Kekada Sujatha and other IHYT faculty who are leaders in their respective fields (http://www.ihyt.org/#!faculty/cjg9) will be hosting the 300/500 Hour Yoga Therapy Training in Bali in two semesters beginning April 16-30 2015 and concluding October 17-30 2015. The training will take place at the lovely Bali Wellness Retreat in Ubud, Bali, Indonesia, in the lush green hills outside Ubud with a stunning view of Bali's sacred mountain, Mont Agung. Yoga Therapy is becoming more utilized and recognized within the medical and scientific community and IHYT brings the best of health care and yoga together, integrating disciplines and traditions to present an incomparable and challenging learning experience. For detailed information on tuition, scheduling, accommodations, etcetera please check out IHYT's logistics guide at http://media.wix.com/ugd/605d37_46dd9fdfce514f27b2f29358d68af5dc.pdf.
About Integrated Health Yoga Therapy
IHYT is a yoga therapy school for a wide range of health professionals whose practices might benefit from the skill-sets and philosophy underlying therapeutic yoga. Yoga therapy is becoming more and more recognized and utilized by the medical-scientific community as a safe and effective complementary therapy and treatment in a wide range of conditions. IHYT offers a carefully selected curriculum of evidence-based educational programs taught by faculty who are leaders in their respective fields, as outlined on our website at http://www.ihyt.org/