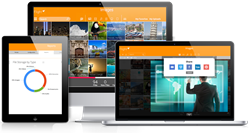 Easily create branded portals to share visual content with Flight by Canto.
San Francisco, CA (PRWEB) October 28, 2014
Canto, a leading provider of digital asset management (DAM) solutions, today announced the release of Flight Fall 2014. Flight is a Software as a Service (SaaS) system for businesses to manage the growing volume of rich media. The recent updates to Flight include shared portals, updates to the Flight iPad app, enhanced visual reporting, the introduction of User Groups and the ability to post directly to social media outlets.
The release continues on its promise of delivering simple, beautiful and enterprise-strength software for today's busy professionals.
"With the Fall 2014 release of Flight we introduce a clean way for brand marketers to share files and collaborate with contractors and agencies using the new portal feature, while doing so in a branded tool," commented Leslie Weller, Marketing Director at Canto. She continued, "Being able to not only work in a branded interface, but also being able to share collections of files from a branded environment is a must-have for many brand advocates turning away from generic online file sharing tools."
Designed to minimize clicks and get users to their branded assets quickly, Flight speeds everyday workflows by giving people time to devote to their core tasks rather than searching for files. Sales teams can access the latest videos, presentations and product sheets in the field with the Flight iPad app. Field agents may shoot video and take pictures then upload files into Flight, making those files instantly accessible to the back office for repurposing on the website, across social media or in any type of documentation. C-level executives may take advantage of Flight's secure, mobile access to board presentations, annual reports and other corporate content – all from a branded portal set up specifically for executives.
Administrators will find benefit from Flight's broader reporting capabilities that offer both a graphical representation for summary results and trend analysis as well as a detailed tabular depiction. Another great productivity feature is the introduction of Groups in Flight, which allows administrators to grant access rights to groups as a whole as opposed to manually performing this task for each individual user.
The recent release of Canto Flight for cloud digital asset management add the following features to simplify the management of visual content:

Portals – share content with public or private audiences that you choose
Groups – assign users to groups for permissioning
Twitter, Pinterest, Facebook – push images directly to these social channels
Version history – not only track revision history, but also make previous versions current if needed
Social workflow - @mention collaborators to kickoff a social workflow in Flight
To learn more about cloud digital asset management or to start a free Flight trial, visit flight.canto.com/free-trial.
Join Canto for a live Flight demo Webinar on Tuesday, November 11 at 10AM PT / 1PM ET, click here to register.
Read more about the Flight Fall release on the Canto blog.
About Canto
Canto is driven by delivering digital content more intelligently. This has made the company a global leader in the digital asset management community. By always putting the focus on its users, Canto delivers scalable software and services that match customer demands. More than one million users from a wide spectrum of market segments have trusted Canto's expertise since the company's founding in 1990. Canto is based in San Francisco (USA), Berlin and Linden (Germany) and serves a worldwide customer base in close cooperation with its worldwide partner network. For more information visit canto.com.