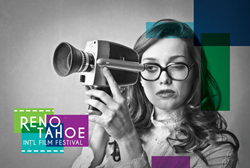 Cinema has the power to transform society and shape thinking. We want to be the platform of artistic tolerance and view cinematic works of all genres, no matter what nationality, in order to thwart censorship of storytellers and provide the arena to shine
Reno, NV (PRWEB) October 27, 2014
The Reno Tahoe Film Society is devoted to the advancement of outstanding achievement in cinema, creating opportunities for Filmmakers and Screenwriters, offering audiences amazing entertainment, and the enhancement of both the image and economic well-being of the Northern Nevada region.
The mission of the society is being fulfilled through the creation of the Reno Tahoe International Film Festival (RTIFF). Recently launched with minimal fanfare, the festival has gained notice for its innovative programming ideals as well as its focus on filmmakers.
With the October 31, 2014 Earlybird deadline around the corner, and already 208 submissions so far, RTIFF is fast becoming the festival of choice for independent filmmakers and screenwriters. The festival has already attracted distributors and buyers, despite this being the inaugural year, with the promise of high quality, ready to be bought, films.
In addition to the filmmakers and screenwriters competing for cash awards and prizes, each project is assigned a social media correspondent to support the film and attending filmmakers tomake a splash in the media, build their audience, and secure distribution. 
The festival founders believe the most powerful and wide-reaching art form on the planet is cinema. "Cinema has the power to transform society and shape thinking. We want to be the platform of artistic tolerance and view cinematic works of all genres, no matter what nationality, in order to thwart censorship of storytellers and provide the arena to shine light on new talent and veteran pros based on their craftsmanship and cinematic achievement." says Festival Founder and Executive Director Chayah Masters. 
The final deadline for submissions is February 1, 2015. For more information visit the website, http://rtiff.org.