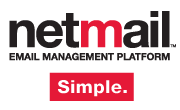 The ability to monitor and manage email storage is an ideal solution for organizations struggling to manage the increased storage requirements of Exchange 2010 and 2013
Montreal, Canada (PRWEB) October 28, 2014
Netmail, an award-winning email management software company, will showcase its Microsoft Exchange Monitoring & Storage Management solution at Microsoft's TechEd Europe Conference in Barcelona, Spain from October 28-31, 2014. Visitors are invited to booth #77 in Hall 7 for on-site demonstrations of the Netmail Monitor & Exchange Storage Management solution. In addition, attendees will also have the opportunity to participate in a short survey on email usage for a chance to win cool prizes.
Netmail Monitor is a set & forget email monitoring solution for Exchange which proactively monitors the overall health of your email system, including mail flow, and lets you recognize and address issues before they arrive. With Netmail Monitor, you can easily analyze your largest mailboxes or databases, and within the next second trigger actions to slim them down.
New features in version 2.0 include role-based access, enhanced predefined reports, realtime IP & domain blacklist monitoring, enhanced alerting via text message, and an on-premise version. You can also trigger actions on Exchange to increase quota, disable mobile devices, and get a bird's eye view of the history and trending of your mobile devices, mailbox usage, and storage growth.
"A high performance email system like Exchange is a must-have for any organization," says Andreas Riediger, Chief Technology Officer at Netmail EMEA. "To keep your email system running smoothly around the clock, however, it's equally important to make sure you have a top-notch email storage management and monitoring solution like Netmail in place. The new version and its ability to monitor and manage email storage is an ideal solution for organizations who are struggling to manage the increased storage requirements of Exchange 2010 and 2013."
Netmail Exchange Storage Management is an attachment management solution that can help slim down your Exchange storage by preventing email attachments from entering your email system and/or removing large email attachments already in your Exchange system, and replacing the attachments with an http(s) link.
On Thursday, October 30, 2014, be sure to drop by the booth for cold, draft beer from 4-5 p.m. during happy hour. "We are excited to show off the latest version of our Exchange Monitoring & Storage Management solution. It is a really unique opportunity for us to connect with our community and make new friends," adds Riediger.
To learn more about Netmail, visit http://www.netmail.com
About Netmail
Netmail provides the simplest way to manage your email, whether for 100 or 100,000 mailboxes. An integrated, award-winning platform that includes email security, archiving, encryption, eDiscovery, storage, monitoring & more—for only $12 per mailbox per year, everything included. You won't find better technology, better support, or better people, for less money. Anywhere.