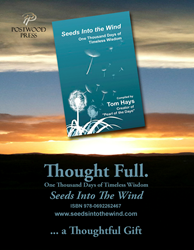 I call it my ministry, and I get a lot of pleasure and gratification when I get a comment from one of the recipients of the daily message that they enjoyed or was helped by a particular quotation." says Hays. "I know the quotations help me stay level, and
Scottsdale, Arizona (PRWEB) October 29, 2014
Tom Hays, author of the new book Seeds Into the Wind – One Thousand Days of Timeless Wisdom, http://www.seedsintothewind.com, knew there was something wrong. Too many mornings he woke up feeling hopelessly tired. Too many days he felt uneasy and listless, unable to focus on his creative work and lacking the desire to attend social gatherings with friends. Depression is a vicious destroyer of one's quality of life. He had to find a way out of what he finally perceived was a downward spiral.
One day he was thumbing through a book on his desk and a quotation literally jumped out at him from the page… "It is one of the most beautiful compensations of this life that no man can sincerely try to help another without helping himself." Those words, by Ralph Waldo Emerson, struck him in a peculiar way, and stayed with him in his mind for the rest of the day, the meaning finally becoming clear. His approach was wrong.
Mr. Hays recalled another quote, this by Benjamin Disraeli, "Nurture your mind with great thoughts, for you will never go any higher than you think."
Great thoughts! It struck him like a bolt of lightning. Why was he stuck in a ditch from which he could not escape, when so many great people before him must have suffered depression in a similar way and overcome it. It is mind over matter. As Buddha preached, "We are what we think. All that we are arises with our thoughts. With our thoughts we make the world." The light bulb came on… To change our life, we must change our thoughts!
After reading the quote by Lori Hard, "Love begins on the inside, and when you can feel happy with your own being, that love spreads to heal others.", the answer was staring him in the face. Find some great thought every day and use it to take his mind to a higher place, to stimulate his brain and wake up his connection to the outside world, and then share those thoughts with others who might find that they enjoy the mental exercise as well.
Thus was born the Pearl of the Day™, http://www.pearloftheday.com, a simple email each day containing an inspirational, motivational or humorous quotation uttered by a famous or infamous person from ancient times to the present day. That original email list to a few friends and fellow writers has grown to thousands, by word of mouth, over the past fifteen years. Many more view the daily "Pearl" on selected syndicated websites and blogs which feature it on their home page for their many viewers.
Tom Hays' latest book Seeds Into The Wind – One Thousand Days of Timeless Wisdom (ISBN978-0692262467) has recently been released by Postwood Press. http://www.postwoodpress.com It is a compilation of one thousand of his favorite quotations, along with some bonus quotes of his own making. He encourages the readers to choose, each day, a random number between one and one thousand, open the book to that Pearl of Wisdom number and see what thoughtful quotation fate brought them that day. Mr. Hays donates a portion of his book sales' proceeds to mental health charities dealing with depression, dementia and Alzheimer's diseases.
"I call it my ministry, and I get a lot of pleasure and gratification when I get a comment from one of the recipients of the daily message that they enjoyed or was helped by a particular quotation." says Hays. "I know the quotations help me stay level, and I am thrilled that others can benefit from them as well. Seeds into the Wind was designed to be the kind of book people can give to friends as a gift that will be used over and over. Share the joy!"
Leo Buscaglia summed it up when he said, "Your talent is God's gift to you. What you do with it is your gift back to God."
Mr. Hays' collection of daily quotations are not all of a serious nature. When asked for his current most favorite quotation and from whom it was quoted, Hays stated, "My favorite piece of advice quotation is this, 'Keep cool, but don't freeze.' Sage advice taken from the label on a jar of Hellman's Mayonnaise."