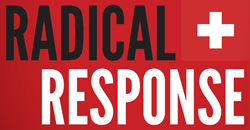 The precepts of free markets offer a proven solution for creating these social and environmental eco-systems where populations can economically flourish.
Denver, CO (PRWEB) October 28, 2014
Today, the planet numbers seven billion souls. The population is not only more numerous but, in addition, it requires a steady supply of food and water for many more years than our predecessors did. The new book, Radical Response, confronts the World's most dire challenges through a bold new perspective. Authors Richard Lackey and Thom Garlock carefully survey the landscape of disaster relief, agriculture, aid and philanthropy, weigh the pros and cons of traditional approaches, and take stock of new technologies that are available to us for the first time in our history. When considered together, these factors have led the authors to an exciting new possibility for bringing aid to suffering populations, through a sustainable free market model that calls for a transformation in the way we think about public-private partnerships.
The authors suggest a more effective mindset for creating solutions that are built on free market enterprise systems to create social outcomes, where sustainable businesses yield a viral increase in quality of life, rather than for a limited population who are always partially dependent on some form of aid. People and environments don't inherently want aid, rather they want and need to be brought into an eco-system where they can flourish. The precepts of free markets offer a proven solution for creating these social and environmental eco-systems. We need only to embrace the model, and work together with an entrepreneurial spirit to find and adapt creative solutions. It is already happening. Through the implementation of new ideas and systems, humans can expect to continue to create a bright future for generations to come, in all corners of the world.
Richard Lackey is the founder of the Global Food Exchange™, a for-profit company uniquely designed to provide benevolent and long-term sustainable solutions for the provision of critical post-disaster supplies. A serial entrepreneur with a unique background that includes several years in emergency medical response and medical missions as well as almost three decades as an active trader and fund manager. He has held eight different securities licenses spanning equity, options and futures markets, and has served as the managing director for five private funds.
Thom Garlock is the founder of the World Food Crusade, a non-profit enterprise focused on providing food to victims of natural disasters, as well as educating consumers on issues related to food security and non-sustainable food production methods in use today. He is also an introducing agent of the Global Food Exchange™ and has presented his research on investing in tangible assets at numerous wealth conferences and has appeared on America's Premier Experts® TV show on ABC, CBS, NBC, and Fox.
Radical Response is available for preview and purchase on Amazon.com. Please visit RadicalResponseBook.com for more details.