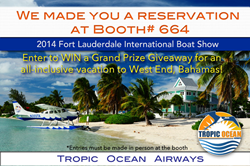 We are excited to introduce our services to the yachting and boating industry, as well as to private travelers, at the Fort Lauderdale International Boat Show -- Rob Ceravolo, CEO Tropic Ocean Airways
Fort Lauderdale, FL (PRWEB) October 28, 2014
This year's Fort Lauderdale International Boat Show will not be just about yachts and boats, as Tropic Ocean Airways will bring a fantastic industry-related service to the table with their top of the line seaplanes. Tropic Ocean's fleet is comprised of late-generation Cessna aircraft, with luxurious interiors comparable to most private jets, and offers the perfect alternative for discerning travelers. The airline focuses on the Florida-Caribbean market and provides door to dock service to multiple destinations within the region.
For yacht owners and brokers, Tropic Ocean offers reliable, fast, cost effective first class air transportation service. The amphibious aircraft are capable of taking off from any runway and landing near an awaiting yacht, offer unparalleled transportation services for supplies, crew, and guests. This 'direct to the yacht' service saves hours of yacht repositioning or travel costs.
For travelers they are a dream come true as they receive a private experience and avoid painful security lines at large terminals. International travelers can clear through customs in fifteen minutes or less, saving up to six hours of travel time for an average round-trip flight. Tropic customizes routes including any destination as long as there is a runway or water nearby. Most importantly, they excel in customer service providing personalized attention to each one of their clients, going far and beyond to deliver the luxury lifestyle experience that their clients expect.
"We are excited to introduce our services to the yachting and boating industry, as well as to private travelers, at the Fort Lauderdale International Boat Show", says Rob Ceravolo, President and CEO of Tropic Ocean Airways. Mr. Ceravolo, along with his team, will be networking and greeting visitors at their booth, as well as drawing great prizes, including an all-inclusive 3 day, 2 night getaway to Old Bahama Bay at West End, Bahamas, valued at $5,500.
The Fort Lauderdale International Boat Show schedule runs from Thursday, October 30 through Monday, November 3, 2014, and Tropic Ocean Airways will be located at Booth #664 at the Bahia Mar Yachting Center, 801 Seabreeze Boulevard, Fort Lauderdale, FL 33316. For more information on the show please go to: http://www.showmanagement.com/fort-lauderdale-international-boat-show-2014/event/
About Tropic Ocean: founded in 2009 by US Navy TOPGUN Graduate Rob Ceravolo, Tropic Ocean Airways Inc is an FAA-certified air carrier specializing in private terminal service throughout Florida and the Caribbean. The fleet of late-model Cessna Amphibians are handled by highly experienced military aviators and seaplane instructors and provide service to private travelers as well as companies and organizations within the yachting and boating industry. For more information please visit their website at [http://www.flytropic.com
For media inquiries, and to visit Tropic Ocean's booth at the show, please contact Marcelo Rivero at 1-800-767-0897 Ext. 120, or via email to media(AT)flytropic.com.