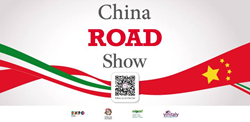 It is not just about pouring the wines I represent, but about Italian Wines as a whole
Beijing, China (PRWEB) October 29, 2014
Vinitaly returns to Beijing after six years confirming its role as the coordinator of a wonderful example of team work that has seen importers and brand ambassadors united in the name of Italian Wines inside Expo's dome in the very heart of Wangfujing: from the 22nd of October the city's most famous avenue has become "Expo Avenue". In 2008, Vinitaly followed the Italian National Team for the Olympic games. Today, instead, Vinitaly shares the spotlight to accentuate Italian Wine and its territory for the cause of Expo2015 in Milan.
Vinitaly will follow the Road Show for the promotion of Expo in China during all the stops planned by the organizing committee: first-tier cities like Beijing, Guagzhou (5 - 7 December), Shanghai (14 – 18 January 2015), but also second-tier cities like Changsha (7-9 November), Fuzhou (21 – 23 November), Chongqing (19 – 21 December), Zhenghzou (TBD) and Jinan (TBD), that are no less important, especially within the wine sector.
For the first time ever in China, importers have been seen serving the wines of their competitors in a surprising example of collaboration and friendship: "To be here together during the Expo2015 Road Show has been a wonderful experience," says Giulia Callarelli, brand ambassador of Sinodrink. "It is not just about pouring the wines I represent, but about Italian Wines as a whole."
In fact, Alan Wang, an importer for Arnaldo Caprai, prepared all the wines presented during the gala dinner including bottles form his direct competitors. It then seems natural enough for Vinitaly to coordinate the Italian Wines side by side to Expo2015 since it will also lead in coordinating "Vino - a Taste of Italy", an entire pavilion dedicated to Italian Wines only.
After Chengdu, Shanghai and Dalian, immediately followed by two series of Road Shows in Italy and Europe, Vinitaly has now returned to Beijing. China has gradually become the protagonist of a series of events, from Vinitaly Hong Kong (6 - 8 November, on the occasion of the International Wine & Spirits Fair) to Wine2Wine, the first B2B forum, organized in Verona from the 3rd to the 4th of December, that will count among its speakers Richard Wei, Secretarial Manager of the Post - Expo Shanghai Research Centre and key player in the China Corporate United Pavilion Project (named "PCC project").
Stevie Kim, Managing Director of Vinitaly International, believes in guarding attentively the Chinese market in an almost obsessive manner: "We realize the Chinese wine market is potentially huge but it will take time to conquer in an orderly fashion, as Italian Wine is fairly unknown at the moment in China. We will continue to aggregate the key players to facilitate a group representation of Italian Wines in order to create a bit of critical mass and also implement a sound educational program through the Italian Wine Ambassador certification program launched by Vinitaly International Academy. There are quite a few candidates from China already and many more candidates to come. This will certainly strengthen the presence of Italian Wine culture, in turn, translating to greater market share of imported wine in China."
Italian Wine Producers: Arnaldo Caprai, Banfi, Bortolomiol, Cantine Polvanera, Ferrari, Feudi di San Gregorio, La Raia, Livio Felluga, Marchesi de' Frescobaldi, Marchesi di Barolo, Mezzacorona, Ruffino, Tommasi Viticoltori, Zaccagnini, Zenato
Italian Wine Importers: 100ITA (Beijing), Aiwei Huamei Trading Company (Beijing), Amore Fine Wines (Shanghai), ASC (Head office in Shanghai. Branch office in many cities in China. It's the biggest group of Italian Fine Wines importers), Cru Italy (Beijing), Emw (Shanghai), Jebsen (Hong Kong), Mercuris (Shanghai and Beijing), Sinodrink (Shanghai), Venas Vinus (Beijing).
About:
Veronafiere is the leading organizer of trade shows in Italy including Vinitaly (http://www.vinitaly.com), the largest wine event in the world. The 48th edition of Vinitaly counted some 155,000 visitors (+6%) in four days of event, of which 56.000 were international attendees representing 36% of the total. On 100.000 square meters, 4.000 exhibitors welcomed trade professionals, media and producers alike. The next instalment of the fair will take place on 22 – 25 March 2015. The premier event to Vinitaly, OperaWine (http://www.vinitalyinternational.com) "Finest Italian Wines: 100 Great Producers," will unite international wine professionals on March 21st 2015 in the heart of Verona, offering them the unique opportunity to discover and taste the 100 best Italian wines, as selected by Wine Spectator. In 1998 Veronafiere also created Vinitaly International to develop a global platform for the promotion of Italian wine producers in foreign markets such as Russia, China, USA and Hong Kong.