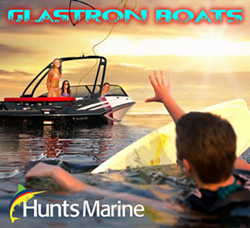 The Great all Rounder
Sydney, NSW (PRWEB) October 29, 2014
Hunts Marine, based in Sydney, Wollongong and Batemans Bay today announces that they have entered into a distributorship agreement to be the exclusive reseller of Glastron boats in NSW.
Glastron Boats are one of the leading designers and builders of leisure craft in the USA. Glastron Boats are based in Michigan and their boats are designed to cater for all family needs from gentle cruising and fishing right through to water-skiing and wake-boarding. Glastron focusses on all aspects of family boating.
The first shipment of Glastron boats has arrived at Hunts Marine and the initial models available are the 160gtx, 180gts, 185gt, 185gts, 187gts, 205gt and 205gts.
Hunts Marine Director Jon Hunt said "We decided to commence our relationship with Glastron by importing these trailer-boat models as we felt that they would have the greatest resonance with NSW boaties. Within this range there is a recreational fibreglass boat to meet the requirements of recreational boat owners from first-timers to experienced boaties looking to upgrade."
"Glastron boats are the ideal family boat with a host of creature comforts which are coupled with performance and safety features such as SSV Hull design which provides optimum stability, performance and importantly fuel economy at both high and low speeds," Jon added.
"When this is teamed up with double truss hull construction (DTHC) which provides unparalleled strength and rigidity which helps eliminate deck and hull twisting you really have a great package," Jon advised.
"Glastron trailer-boats are great all-rounders" Jon concluded.
Glastron Boats will initially be available to view at Hunts Marine Sydney dealership and Hunt's Marine have specially trained staff to assist interested boaties with their enquiries. Service Staff are also qualified to ensure that all Glastron Boats maintain optimum performance.
Hunts Marine is one of New South Wales oldest and most respected marine dealerships. The family business was established in 1946 and has traded continuously since that date. Hunts Marine specialise in tailoring the right boating package for the needs of each customer.
For further details contact head office on 02 9546 1324 or visit http://www.huntsmarine.com.au