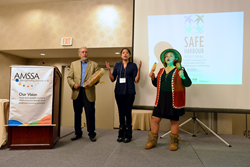 "Historically, First Nations people in Canada have been opening up ceremonies with a blessing or opening ritual of some kind."
Vancouver, BC (PRWEB) October 28, 2014
Recognizing aboriginal people as traditional stewards of the land is a critical part of demonstrating respect for the Indigenous peoples of British Columbia. The Safe Harbour Champions' Breakfast on November 6th will have a welcome ceremony by Dennis Thomas of the Tsleil-Waututh Nation.
"By acknowledging the three communities, I am opening the event in a positive way and setting the tone for the meeting. This shows how the indigenous people of the community are still very connected to their culture and provides an opportunity for us to practice our traditions," said Thomas.
"Historically, First Nations people in Canada have been opening up ceremonies with a blessing or opening ritual of some kind."
In June of 2014 the City of Vancouver officially acknowledged the city was founded on unceded land that still belongs to the Musqueam, Squamish and Tsleil-Waututh First Nation communities. "We felt the strongest step we could take was to acknowledge that we were not here first, that this is a traditional territory for these three Nations, and seek to find ways to properly acknowledge that this is their territory and honour their traditional protocols," said Councillor Andrea Reimer.
Safe Harbour's annual fundraiser is an opportunity to award diversity champions in British Columbia for their efforts on creating inclusive workplaces for all people. Part of creating inclusive workplaces is being aware of different cultures and traditions, and witnessing a traditional welcoming ceremony is one way of recognizing the Musqeuam, Squamish and Tsleil-waututh nations.
The City of Vancouver has also produced a resource on a First Peoples Guide for Newcomers to create more awareness and understanding of the history of the first Nations communities in Canada.