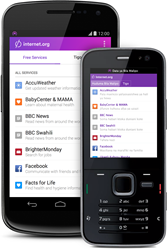 We are seeing people in developing countries increasingly make the leap from no Internet access to access to the Internet through mobile phones.
Washington, DC and San Francisco, CA (PRWEB) October 29, 2014
Building on a successful partnership delivering health information to new and expecting mothers and their families via mobile phones for more than three years, BabyCenter®, Mobile Alliance for Maternal Action (MAMA), and Praekelt Foundation, are working with Facebook to offer maternal, newborn and child health content as part of the Internet.org app - a package of free basic services aimed at first-time users of the mobile internet in Tanzania.
Approximately 800 women die every day around the globe due to complications related to pregnancy and childbirth and 3.1 million children die every year during the first year of life. These deaths are largely preventable with basic health information and services. At the same time, more than 1 billion women in low and middle income countries now own mobile phones.
MAMA was formed in 2011 as a public/private partnership between USAID, Johnson & Johnson, the United Nations Foundation and BabyCenter to leverage the growing proliferation of mobile phones to empower women living in poverty with information needed to make the best decisions for themselves and their families. BabyCenter creates content for MAMA's open source messages and for country programs in Bangladesh, South Africa, India and soon, Nigeria and developed expert pregnancy and baby content for Internet.org. Praekelt is MAMA's main implementing partner in South Africa, and built the technology platform being used to share the content with Internet.org.
"At BabyCenter, we believe that all moms deserve to have a healthy pregnancy. For nearly two decades, we have provided moms around the world with expert advice and emotional support, empowering them to better care for their families," says Colleen Hancock, COO of BabyCenter.
"We are excited to leverage our expertise to support moms in Tanzania and other low resource settings through this rewarding partnership with Facebook's Internet.org initiative."
"We are seeing people in developing countries increasingly make the leap from no Internet access to access to the Internet through mobile phones," says Kirsten Gagnaire, Executive Director of MAMA. "That's why we felt it was important to be in on the initial stages of this work, which has the potential to reach millions more women with critical health information than we could through MAMA's country programs alone."
"Internet.org is about making the internet more accessible and affordable to more people around the world and giving people access to these services for free could significantly increase the rate of adoption of the internet," says Andrew Bocking, Product Manager of Internet.org at Facebook. "The two thirds of the world who are not yet connected deserve the same opportunities that the connected third of the world enjoys today."
The goal of Facebook's Internet.org app is to make the internet more accessible through a set of free basic services, enabling people to browse useful content and websites without incurring data charges. In Tanzania, Tigo customers can access the internet.org app through the Google Play Store, by visiting http://www.internet.org on a mobile browser, via the Tigo portal, and through a bookmark on Opera Mini. The service works on smartphones and feature phones.
"Praekelt Foundation is honored to be able to provide the technology to make this life-changing information available to moms in Tanzania who connect to the internet for the first time," says Gustav Praekelt, founder of Praekelt Foundation.
BabyCenter, MAMA and Praekelt first teamed up with Facebook in Zambia last summer, when the Internet.org app launched there. Now in its second country, Tanzania, Facebook is planning several more launches this year, all including maternal, newborn and child health information from the BabyCenter, MAMA and Praekelt partnership.
About BabyCenter:
BabyCenter is the voice of the 21st Century Mom® and modern motherhood. It's the #1 pregnancy and parenting digital destination worldwide, reaching more than 40 million moms monthly in 11 languages across 14 owned and operated properties from Australia to India to China. In the United States, 7 in 10 babies born last year were BabyCenter babies. BabyCenter is the world's partner in parenting, providing moms everywhere with trusted advice from hundreds of experts around the globe, friendship with other moms like them, and support that's remarkably right at every stage of their child's development. BabyCenter also works with some of the world's most prominent brands and institutions to provide life-stage marketing solutions and a direct line to highly engaged moms. BabyCenter established a Global Giving Program and partners with esteemed organizations to help make motherhood safer for all women. BabyCenter is a member of the Johnson & Johnson family of companies.
About MAMA:
Mobile Alliance for Maternal Action (MAMA) delivers vital health information via mobile phones to new and expectant mothers living in poverty throughout developing countries. Hosted by the United Nations Foundation, MAMA provides age and stage-based messages aligned with global best practices, empowering women to make the best decisions for themselves and their families. MAMA was launched in 2011 by then Secretary of State Hillary Clinton as a public private partnership between USAID, Johnson & Johnson, United Nations Foundation and BabyCenter. For more information visit: http://mobilemamaalliance.org
About Praekelt Foundation:
Praekelt Foundation builds open source, scalable mobile technologies and solutions to improve the health and wellbeing of people living in poverty. Our programs have reached more than 50 million people across 15 countries in sub-Saharan Africa. Learn more at http://www.praekeltfoundation.org
Contacts:
BabyCenter: Aimee Geller Promisel/Aimee.GellerPromisel (at) babycenter.com
MAMA: Stephanie Bowen / sbowen (at) mobilemamaalliance.org
Praekelt Foundation: Samantha Manclark sam (at) abetterworld.co.za