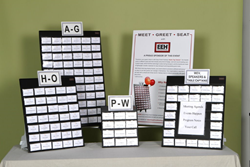 "Name Tag Tamers transform what is often tantamount to a tussle into a high-end relationship building opportunity."
(PRWEB) October 29, 2014
A chronic frustration for event planners and attendees is the logjam around the registration table. Easy Event Hosting is solving this challenge with the Name Tag Tamer™ Collection, a line of patented name badge organizers for companies, nonprofits, religious organizations, and membership associations of all sizes.
"The need for this product from diverse industries is beyond our expectations," said Brian Stenfors, co-founder of Easy Event Hosting, the manufacturers of the Name Tag Tamer Collection. "The Name Tag Tamer is already in use in education, healthcare, nonprofit and financial sectors.
Three years ago, with more than 30 years as a professional fundraiser, Brian Stenfors and colleagues were determined to avoid the usual bottleneck for name badges at a high profile nonprofit event. After finding a temporary fix that day, Stenfors joined forces with his brother Alan Stenfors, an industrial designer and Rhode Island School of Design alumnus, to find a lasting solution for event, conference and meeting planners. The Stenfors brothers founded the Easy Event Hosting company around their now patented Name Tag Tamer Collection.
Name Tag Tamers are available in three configurations to accommodate meetings and events from small groups to hundreds of attendees. Magnets are positioned to hold standard 2¼" x 3½" or 3" x 4" metal clip name tag badges in place so they can be pre-loaded in the office and transported for easy set up at the event site. "Tamers" also come with patented custom carrying cases using light-weight, durable materials for easy transport and long-lasting good looks. Each Name Tag Tamer can also hold virtually any standard badge, card or table tent.
"My favorite thing about using Name Tag Tamers in my work is that the product also transforms what is often tantamount to a tussle into a high-end relationship building opportunity," said Brian Stenfors.
About Easy Event Hosting
Easy Event Hosting, with offices in Boston, Massachusetts and Santa Barbara, California, solves event planning challenges with industrial design and value added services. Business partners and brothers Brian and Alan Stenfors bring together best practices from 30+ year careers in nonprofit fundraising, event planning and industrial product design and manufacturing. The flagship Name Tag Tamer Collection and ancillary products are manufactured in the U.S.A. and are available at http://www.easyeventhosting.com and http://www.nametagorganizers.com.