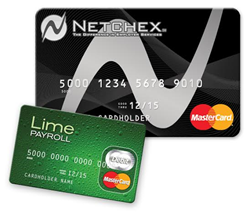 Mandeville, LA and Boca Raton, FL (PRWEB) October 30, 2014
Netchex has partnered with Cardplatforms® to deliver the Netchex Paycard MasterCard as a fully integrated payroll card solution available on the Netchex Online Platform. Until the Netchex Paycard is available, Cardplatforms is providing an immediately available payroll card to Netchex clients – Cardplatforms' Lime Payroll MasterCard.
Netchex is one of the fastest growing payroll and related solutions companies in America. The Netchex Paycard virtually eliminates traditional barriers that have kept small to mid-size companies from going to 100% paperless payroll.
"We are very excited to be completing the integration of the new Netchex Paycard into the Netchex core payroll management product. It will give our customers the seamless and extremely efficient ability to provide this option to all employees without having to follow another process or log into another system." said Will Boudreaux, Netchex CEO. "The partnership with Cardplatforms is a natural fit with our strategy to deliver the best payroll solutions over the web. Having flexible and convenient options to get people paid electronically not only supports our green initiative, but provides many of our clients and their employees tremendous savings over traditional live check distribution."
Netchex partnership with Cardplatforms will enhance the payroll card experience for employers and employees by offering products, upgrades and services unavailable before. Cardplatforms' infrastructure provides Netchex with integrated employer tools and real time access to card and payment functions, giving employers the ability to reduce time and costs for themselves and their employees.
"We have been extremely impressed with the passion and care that Netchex provides to its customers" stated Darin Petty, Cardplatforms COO. "We knew immediately that their mission and goals lined up perfectly with ours - to bring great products to people who deserve them."
About Cardplatforms: Cardplatforms manages the issuance of, and provides support to, global MasterCard® and Visa® prepaid card programs, including design, launch, marketing, and retention support tools. Cardplatforms also delivers services for expanding and enhancing the cardholder experience through CARDPOINT®, a proprietary issuing, services, and retention platform featuring mobile, customer service, marketing and media expertise in a one-stop setting. Visit http://www.cardplatforms.com for more information.
About Netchex: Netchex, based in Mandeville, Louisiana, with offices in Louisiana, Mississippi, Dallas and Atlanta, was ranked #1,565 on the Inc. 5000, with a 3-year growth rate of 189%. They currently service over 3,000 clients throughout the United States. Netchex operates on a SAAS model with state of the art web hosting, and a consistent focus on security and continuous product development efforts, to lower IT costs, offer flexibility
and reduce maintenance costs associated with hardware and hosting. Visit http://www.netchexonline.com for more information.