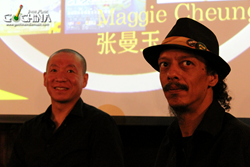 (PRWEB) October 29, 2014
MusicDish*China founder Eric de Fontenay has been invited to speak at the Dongdong Music festival & convention being held at the Meridian Space in Beijing, China on November 26-28, 2014. MusicDish*China serves as a bridge between East & West, presenting events award-winning Chinese acts in North America as well as developing and touring for Western acts in China.
Mr de Fontenay, who manages China's top rock band Second Hand Rose, will be speaking on "The Art Of Artist Management" to discuss the development of artist management in both the western and the eastern world, and to examine how the necessary skills and applications can be adapted for different cultural environments. He will also be speaking on the "China Export: Meet The People Who Take Chinese Talents Across Borders" panel gathering key players bringing Chinese artists to far away markets and audiences.
Eric de Fontenay founded digital media firm MusicDish, subsequently launching the largest music newswire Mi2N. In 2009, he turned his focus on China's music industry, culminating in the MusicDish*China brand that has partnered with key stakeholders in the music market. Eric has collaborated on cultural export missions from Taiwan to Paris, Toronto and NYC since 2011 as well as developing and booking Western acts in Greater China. He has signed mainland Chinese rock band Second Hand Rose who recently completed a successful tour of the US. He's been quoted in media as diverse as FT China and China Daily to Portugal's DIF magazine, and was featured in The Beijingers' 2012 Music Issue.
http://china.musicdish.com
DongDong is the new international meeting point for music in China . It provides a stage to showcase the creativity and vitality of the independent music scene of China, Asia and the rest of the world. DongDong is 4 days event, including a 2 days convention with conferences debates and workshops open to professional and a festival open to everyone spread out over many venues of Dongcheng district, the lively cultural corner of Beijing.
http://www.dongdong-event.com/