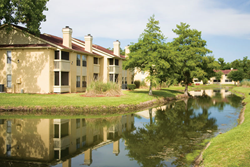 This is a rare opportunity when you consider the amazing location to both the beach and Jacksonville's bustling corporate centers, as well as the limited amount of garden-style rentals in Ponte Vedra Beach.-- Byron Cocke, CEO, Cocke Finkelstein Inc/CFLane
Atlanta, GA (PRWEB) October 30, 2014
Cocke Finkelstein Inc. (CFI), a full-service multifamily investment firm, has acquired Remington at Ponte Vedra Lakes, a 344-unit, garden-style apartment community in Ponte Vedra Beach, Florida, for $35.35 million.
CFLane, the apartment management subsidiary of CFI, will manage the community, which was 96 percent leased when the transaction closed last Friday.
Remington at Ponte Vedra Lakes was built in 1986 and sits on more than 28 lake-dappled acres; it offers one- and two-bedroom floor plans. Amenities include varied recreational facilities including a racquetball court, full fitness center, kids' playground and two year-round outdoor swimming pools; a car-care center; dog parks and numerous bridges, gazebos and lakeside vistas designed for the exclusive enjoyment of Remington's residents. The community is located within a three-minute drive of public beach access and is nearby such amenities as TPC Sawgrass, home of the PGA Tour's prestigious The Players Championship.
A multimillion-dollar renovation planned for the community will commence immediately and will include major enhancements and modernization to both exterior and interiors, as well and new and expanded amenities throughout the site.
Remington is the 40th Florida community in the growing management portfolio of CFLane, making the Sunshine State the third-largest, in terms of both number of communities and units managed.
"Remington at Ponte Vedra Beach is an outstanding addition to our portfolio, and reinforces our commitment to seeking opportunities to both own and manage assets in the state of Florida," said Byron Cocke, CEO of CFI and CFLane. "This is a rare opportunity when you consider the amazing location to both the beach and Jacksonville's bustling corporate centers, as well as the limited amount of garden-style rentals in Ponte Vedra Beach."
More information about the new addition to the CFI and CFLane portfolio can be found at: http://www.cflane.com/id/1714/remington-at-ponte-vedra-lakes-ponte-vedra-beach-fl-32082
About Cocke Finkelstein (CFI)
CFI is a privately held Atlanta-based real estate and investment management firm, founded in 2004. Since inception, CFI has evolved into a full-service real estate investment, multifamily property management, asset management, and consulting firm, providing services to owners, investors and financial institutions throughout the country. Affiliated entities provide vertically integrated services including property management operations, general contracting, due diligence, property inspections, information technology, human resources and accounting.
About CFLane:
As an affiliated entity of Cocke Finkelstein, Inc. (CFI), Atlanta-based CFLane manages owned and third-party multifamily real estate. It currently manages approximately 40,000 apartment units in 18 states in a region stretching from Maryland to Nevada. The services it provides for apartment owners include property operations; general contracting, construction management and capital improvement programs; property inspections and due diligence; compliance; accounting, budgeting and reporting; human resources and payroll, technology solutions, legal; and taxes and insurance.