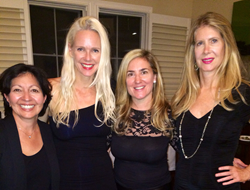 "To bring together creative, confident women for one cause and to celebrate life – it's these collaborations that highlight the best of life and remind us of all those affectedby breast cancer" -- Claire Farwell, founder of Claire Farwell London
SAN FRANCISCO (PRWEB) October 30, 2014
Jill Milan®, a provider of designer Italian handbags, partnered with apparel brand Claire Farwell London in a trunk show benefiting Sense of Security California, a non-profit organization which provides financial assistance for California residents and families financially distressed by treatment for breast, ovarian and other gynecological cancers. Also featured and available for auction were paintings by artist Erin Bobo. A portion of the evening's fashion and art sales were donated to SOSC.
The event was hosted in the Palo Alto home of Claire Fedder. Veggie Grill of Mountain View and Jacquart Champagne contributed to the event's catering.
"The support which Sense of Security California provides can make all the difference for women fighting breast and other cancers, and for their families," said Jill Fraser, Jill Milan founder. "We could not be more pleased to be part of this event."
"To bring together creative, confident women for one cause and to celebrate life with a glass of champagne, delicious vegan food and fashion – it's these collaborations that highlight the best of life and remind us of friends, family and all those affected by breast cancer," said Claire Farwell, founder of Claire Farwell London.
A diagnosis of breast, ovarian and other gynecological cancers can impose heavy financial burdens on patients and their families. Cathy Sisneros Chung formed Sense of Security California in 2010 after her sister Darlene's battle with breast cancer revealed how expensive a cancer diagnosis can be.
"In July 2000 my sister Darlene learned she had breast cancer; she was 39 years old," Ms. Chung said. "In September 2001, my husband Steve's first wife, Susan, was diagnosed with ovarian cancer; she was 42. Susan lost her battle in December 2004 and Darlene in August 2012. Our story is not unique. So many other families face these same agonizing diagnoses with a family member or dear friend."
Few organizations in California serve non-medical financial needs for patients with breast cancer and almost no organizations focus on ovarian and other gynecological cancers. Of these organizations their focus is primarily limited to emergency funding. Sense of Security California provides comprehensive, sustained financial assistance to meet basic living expense for median- to low-income patients while in treatment.
"We know firsthand how expensive a cancer diagnosis can be," Ms. Chung said. "If you are lucky enough to have private health insurance you face high co-pays for your medications. Many of the women we serve have to turn to government assistance and are making choices of paying for their medications or feeding their families. Most of the women cannot work during their treatment. It is not surprising what an unbearable burden this can be on many families."
Donations to Sense of Security California can be made at the organization's website, http://www.senseofsecurityus.org. SOSC provides its clients with specific non-medical financial assistance while they are in active cancer treatment to cover the costs of transportation, groceries, rent or utilities. SOSC is a 501c(3) non-profit corporation operated entirely by volunteers.
About Jill Milan
Jill Milan is a provider of luxury Italian handbags and fashion accessories. Made of exquisite materials, Jill Milan products are crafted in Italy by artisans who have created handbags and accessories for some of Europe's best known fashion houses. All Jill Milan products are free of animal-derived materials, and the company contributes to animal-welfare organizations. Jill Milan is the only luxury handbag line entirely free of animal-derived materials which regularly appears on Hollywood's red carpets. Visit Jill Milan on the Web and follow Jill Milan on Facebook. Jill Milan and the Jill Milan logo are registered trademarks of Jill Milan LLC, and are protected by trademark laws of the United States and other countries. All other product and company names are trademarks or registered trademarks of their respective companies.
About Claire Farwell London
Luxurious hand-selected fabrics construct an elegant and timeless collection. With an emphasis on femininity and design detail, every piece within the Essentials Collection creates a slimming and flattering silhouette. Claire Farwell London encompasses the essence of modern sophistication– the perfect staples for day to night looks, gorgeous styles for the international jetsetter, and reversable designs that will expand any wardrobe. Timeless pieces for ageless women. Visit Claire Farwell London on the Web and follow Claire Farwell London on Facebook.
About Sense of Security California
Sense of Security California is a California 501c(3) non-profit corporation that provides non-medical financial assistance for California residents who are financially distressed due to being patients in treatment for breast, ovarian and other gynecological cancers. Our work begins with the patient but extends to their family. Through the collaboration with social workers and patient navigators we are reaching the needs of patients and their families whose diagnosis and treatment has become an unbearable burden. Visit SOSC online at http://www.senseofsecurityus.org.