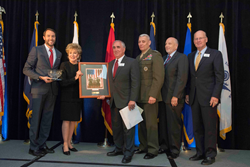 These 5.5 million amazing heroes who are dealing with raising children, supporting families and working 24/7 as caregivers are truly inspiring.
Alexandria, Va. (PRWEB) October 29, 2014
General John H. Tilelli Jr., USA (Ret), outgoing chair of Military Officers Association of America (MOAA's) board of directors, and MOAA President Vice Adm. Norbert R. Ryan Jr., USN (Ret), proudly presented Tuesday evening the MOAA Military Family National Service Award to former Sen. Elizabeth Dole and several Community Heroes Awards to eight groups and individuals who have exemplified selfless service to the wounded military and veterans' populations.
General John M. Paxton Jr., USMC, assistant commandant of the Marine Corps, delivered the keynote address, drawing on U.S. history to illustrate the America's long and storied tradition of patriotism and democracy.
Paxton also recognized the service of his MOAA audience and reminded them those in uniform today are every bit as great as those who served in earlier decades.
"I just happen to be the one of the half of 1 percent of those who serve our nation who gets to tell you all thank you," he said.
In her acceptance speech, Dole thanked MOAA and the "hidden heroes" who care for wounded servicemembers and veterans. She also called for a holistic transformation in how "the world's great superpower" cares for these populations.
"Have we also become a superpower in supporting our troops and veterans when they come home?" she asked. "We all know the answer is no. … [These award winners] all serve as an example to all of us about what each of us needs to do to become that superpower at home."
"Since early 2013 MOAA has been honored and privileged to be a partner with the Elizabeth Dole Foundation: Caring for Military Families in helping to meet the needs of the military caregivers." Ryan said. "These 5.5 million amazing heroes who are dealing with raising children, supporting families and working 24/7 as caregivers are truly inspiring."
Military award recipients included:
The Warrior Family Coordination Cell and Inpatient Warrior and Family Liaison Office at Walter Reed National Military Medical Center in Bethesda, Md.;
The 3D Medical Applications Center, Department of Radiology, at Walter Reed;
The Inpatient Traumatic Brain Injury Program at Walter Reed; and
The National Intrepid Center of Excellence.
Civilian award recipients are:
Brendan O'Toole, a former Marine Corps sergeant and founder of The Run for Veterans;
Lean Hernandez, a caretaker, military spouse, and member of the Fort Belvoir (Va.) Caregivers Support Group;
Kristen C. Querriera, founder, CEO, and chair of the board of Operation Troop Appreciation; and
Ken and Julia Falke, a military couple who personally employ veterans and have created the Wounded EOD Warrior Foundation and started Boulder Crest Retreat for Military and Veteran Wellness.
Read full biographies of each of the award winners. The 2014 Community Heroes Award artwork "No Generation Left Behind" by Jerry Frech, depicts Vietnam veterans rallying and creating a tradition of never letting a veteran be forgotten.
To see the full interview with Sen. Elizabeth Dole, go to http://www.moaa.org/capitalevent/.
# # #
About MOAA:
Military Officers Association of America (MOAA) is the nation's largest officers association with more than 380,000 members from every branch of service, including active duty, retired, National Guard, Reserve, and former officers and their families and survivors. MOAA is a nonprofit and politically nonpartisan organization and an influential force in promoting a strong national defense. MOAA represents the interests of service members and their families in every stage of their lives and careers, and for those who are not eligible to join MOAA, Voices for America's Troops is a nonprofit MOAA affiliate that supports a strong national defense. For more information, visit http://www.moaa.org or http://www.voicesfortroops.org/.
Members of the news media who wish to be added to our media distribution list for MOAA news releases, please contact requestnews@moaa.org. Visit MOAA's Multimedia & Press Room at http://www.moaa.org/media/default.htm.