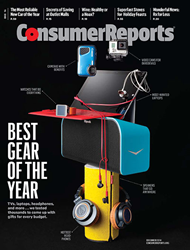 Outlet malls are quite popular thanks to Americans' demand for bargains. Our survey revealed that some outlets do offer serious bargains on well-made merchandise
Yonkers, NY (PRWEB) October 30, 2014
When it comes to satisfying customers, Bon Worth, L.L.Bean, Haggar and Carter's are among the better outlet stores, according to Consumer Reports. They earned the highest scores among 53 of the nation's major outlet chains, based on a survey of 15,789 CR subscribers.
The report, which includes the full Ratings of outlet stores and tips for saving the most time and money, is available in the December issue of Consumer Reports and at ConsumerReports.org.
Consumer Reports' survey, which reflects 25,441 visits to outlet stores, reveals how the chains rate based on value, quality, selection, and help. Overall, 67 percent of readers said that they were completely or very satisfied with their experience, up from 60 percent in CR's 2010 survey. And most were happy with outlet deals – 64 percent of store visits yielded a great value, and at 34 percent of stores prices were much lower than the sale prices at regular stores.
"Outlet malls are quite popular thanks to Americans' demand for bargains. Our survey revealed that some outlets do offer serious bargains on well-made merchandise," said Mandy Walker, Senior Projects Editor for Consumer Reports.
Still, surveyed shoppers had a few gripes. For example, 8 percent said they found a poor selection of styles, sizes, or colors, and 6 percent complained that the quality of the merchandise was lower than they expected. Outlet chains that ranked on the lower end included American Eagle Outfitters, Old Navy, Gap, Nike and Levi's.
Consumer Reports is the world's largest independent product-testing organization. Using its more than 50 labs, auto test center, and survey research center, the nonprofit rates thousands of products and services annually. Founded in 1936, Consumer Reports has over 8 million subscribers to its magazine, website and other publications. Its advocacy division, Consumers Union, works for health reform, food and product safety, financial reform, and other consumer issues in Washington, D.C., the states, and in the marketplace.