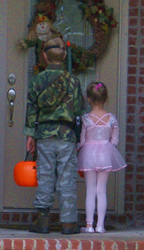 Make sure older children are trick or treating in groups and that your child has a cell phone to call you if they get separated. -Dr. Marta Katalenas
Austin, TX (PRWEB) October 30, 2014
The Federal Bureau of Investigation's National Crime Information Center, or NCIC, had 462,567 entries for missing children under the age of eighteen years old in 2013. In a recent article, Dr. Marta Katalenas of the Pediatric Center of Round Rock explained that Halloween events and parties can pose various types of threats to children and adolescents.
"Younger kids make you worry about their physical safety–from strangers they might encounter to tainted candy and oncoming cars," said Dr. Katalenas, "As they mature, they face different threats to their security–parties with underage drinking or pressure to get involved in risky pranks or stunts."
By taking the proper precautions for the holiday, Dr. Katalenas offers parents Halloween safety tips, starting with younger children. "Pin your child's name, address and phone number to the inside of his or her costume in case you get separated," Dr. Katalenas instructed, "Make sure older children are trick or treating in groups and that your child has a cell phone to call you if they get separated."
The pediatrician went on to explain that houses and porches that are not well lit should be avoided completely, homes should never be entered while trick-or-treating, and to reject homemade treats, only opting for packaged-wrapped items.
For adolescent children, Dr. Katalenas explained to parents the importance of knowing what Halloween events their child will be attending. "Make sure you know where the party is, who will be there and how you can reach them," she said, "Call the host parents to verify that adults will be supervising."
Dr. Katalenas went on to explain that parents must talk to their teen about personal safety. "Don't accept food or drinks from anyone they don't trust and to never leave their drink unattended, and never get into a car with someone who has been drinking."
Other Halloween safety tips for teens recommended by the Austin pediatrician included using their cell phones for help in any situation, and for young women to never leave a party by themselves to avoid potential harm. Visit the website to learn more Halloween safety tips.
About Dr. Katalenas
Dr. Marta Katalenas is a board certified pediatrician and owner of the Pediatric Center of Round Rock. She is a public speaker and author of the book "The Step Up Diet: From Scratch… The Quality, Quantity, and Timing Solution to Childhood Obesity", a guide to healthy cooking and eating for busy families.
http://www.drkatalenas.com/