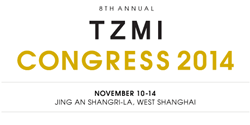 more than 300 delegates are already registered for the 8th annual TZMI Congress
(PRWEB) October 31, 2014
TZMI is pleased to announce that more than 300 delegates are already registered for the 8th annual TZMI Congress to be held in Shanghai, China. TZMI Congress is known for being where the world's titanium and zircon industries meet.
Attendance at the 2014 Congress will provide insights on a range of topics across titanium feedstocks, TiO2 pigment, titanium metal and zircon that will help shape your future business direction and strategy.
Speakers already confirmed include Alkane Resources Ltd, Argex Titanium Inc., Base Resources Limited, Braemar ACM Shipbroking, CITIC Jinzhou Metal Co., Ltd, Cleveland Research Company, Council for Scientific and Industrial Research (CSIR), DCW Ltd, DuPont Titanium Technologies, EH Consultancy, Fairmont International, Inc., IHS, Iluka Resources Limited, IRC Ltd, Iwatani Corporation, Metalysis, Pangang Titanium Industry Co., Ltd, Reed Resources, Research-Works, Rio Tinto Iron and Titanium, Rolls-Royce, RTI International Metals, Inc, Sheffield Resources Ltd, Sichuan Lomon Titanium Industry Co., Ltd, Specialty Metals Company SA, TIMET, TiZir Limited, Tronox, White Mountain Titanium Corporation, Zhejiang Zr-Valley Science & Technology Co., Ltd, Zirco Resources, Zircon Industry Association and specialist papers from TZ Minerals International.
In 2014, TZMI in association with China National Chemical Industry Productivity Center Titanium Dioxide Branch and Iluka Resources Limited will also be hosting Focus on China day Friday 14 November. Focus on China will be a unique opportunity to understand important industry factors from a Chinese perspective and gain greater knowledge of this important geographical influence.
Speakers confirmed for Focus on China Day include China National Chemical Industry Productivity Center Titanium Dioxide Branch, Iluka Resources Limited, Jiangsu Taibai, Wuhan Fangyuan, OK-Pigments, CITIC Jinzhou Metal Co., Ltd, Roche Commodities (Hong Kong) Ltd, Foshan Ceramics Industry Association, China Real Estate Information Group, Huicong hc360.com and specialist papers from TZMI Management Consulting (Shanghai) Co., Ltd.
Also in 2014, TZMI will host two Field Trips on Monday 10 November. The field trip options include visiting the GPRO Nanjing Titanium TiO2 Plant, Jiangsu province or visiting the Shanghai Building Materials Market located in the greater Shanghai area.
Spaces for both field trips are limited and will be available on a first come first served basis.
For more information or to register please visit http://www.congress.tzmi.com or email marketing@tzmi.com
About TZMI
TZ MINERALS INTERNATIONAL (TZMI) is a specialist advisory services company for opaque mineral and chemical markets. Established in 1994, the head office is located in Perth (Australia) and other offices in Shanghai (China), Houston (USA) and Durban (South Africa).
TZMI partners with clients from the private and public sectors to provide bespoke solutions across markets and strategic services and technical and engineering services. Our clients range from the world's 500 largest companies through to mid-sized companies and small businesses. TZMI regularly releases market reports and periodicals on relevant subject matters which support the consulting activities and ensure up-to-date, high quality and comprehensive data, analysis and information is provided.
FURTHER INFORMATION
Tracey McBain – Marketing Manager
TZ Minerals International
E: tracey.mcbain(at)tzmi(dot)com
P: +61 8 9359 6000