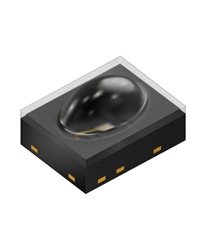 A display fitted with the new Displix Oval LEDs has a stable and very homogenous color appearance.
Sunnyvale, CA (PRWEB) October 30, 2014
Osram Opto Semiconductors has launched the first LED with oval light-radiating characteristics for large-screen video walls, gas station price signs and digital road signs: the new surface-mountable Displix Oval. Thanks to a compact housing measuring just 2.1 x 2.7 x 1.5 mm (including lens), almost twice as many LEDs can now be mounted on a board than with ordinary radial diodes, doubling both the pixel density and the resolution of displays. As a result, the images displayed are extremely vivid with a high color homogeneity.
An additional advantage of this high pixel density is that the pixel brightness required is lower so that the individual LEDs require a lower current. In combination with the durable housing materials, this lower output extends the lifetime of the diodes.
The Displix Oval has a black QFN (Quad Flat No Leads) housing, which further increases the image quality. It reduces reflections and increases the contrast and color quality of the images displayed across the entire display: "Being surface mounted, SMT LEDs like the Displix Oval have very low tilt tolerances per diode," explained Andrew Lin, product marketing manager at Osram Opto Semiconductors. "A display fitted with the new Displix Oval LEDs has a stable and very homogenous color appearance."
Both the processes and the processing of the Displix Oval are much simpler than with radial LEDs, greatly reducing customers' processing costs. Being very flat, the Displix Oval requires less silicone for the potting of the boards to protect the contacts from rain, moisture, and corrosive outdoor environments. This enables customers to reduce the amount of material used, which again has a considerable impact on their costs. The Displix Oval will be available in October 2014 in yellow, red, green and blue.
ABOUT OSRAM OPTO SEMICONDUCTORS
OSRAM, Munich, Germany is one of the two leading light manufacturers in the world. Its subsidiary, OSRAM Opto Semiconductors GmbH in Regensburg (Germany), offers its customers solutions based on semiconductor technology for lighting, sensor and visualization applications. Osram Opto Semiconductors has production sites in Regensburg (Germany), Penang (Malaysia) and Wuxi (China). Its headquarters for North America is in Sunnyvale (USA), and for Asia in Hong Kong. Osram Opto Semiconductors also has sales offices throughout the world. For more information go to http://www.osram-os.com.