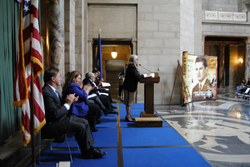 The legacy of Dr. Hector P. Garcia is being recognized throughout the country.
San Antonio, TX (PRWEB) November 03, 2014
The Nebraska Latino-American Commission (NLAC) hosted the eighth annual Hispanic Heritage Month State Commemoration on Friday, Oct. 10 at the Capitol Building in Lincoln, Nebraska.
The keynote speaker for the event was Cecilia Garcia-Akers, daughter of Dr. Hector P. Garcia and president of the Dr. Hector P. Garcia Memorial Foundation. Garcia-Akers spoke about her father's legacy and the struggle to achieve the American dream. The attendance of 150 heard of Dr. Garcia's remarkable life and his contributions to health care, civil rights, veterans' rights and education.
The Dr. Hector P. Garcia Memorial Foundation also traveled to Omaha, Nebraska to meet with representatives of Creighton University, where Dr. Garcia completed his medical and surgical internships in 1942 at St. Joseph's Hospital. The Foundation also met with an American GI Forum Chapter in Omaha, Nebraska, to discuss the Chapter's recent activities and tour its facilities.
Dr. Hector P. Garcia completed his surgical and medical residencies in Omaha, Nebraska in 1942. He was called to active duty in June 1942, just weeks before completing his medical education. He achieved the rank of major in the United States Army and was chief of surgery of several Mobile Army Surgical Hospitals. He was awarded the Bronze Star Medal, the European African Middle Eastern Campaign Medal with six Bronze Stars, and the World War II Victory Medal. After Dr. Garcia completed his military duty, he opened his medical practice in Corpus Christi, Texas, caring for veterans returning from World War II in 1946.
Dr. Garcia experienced many veterans returning from World War II in poor health and unable to gain employment. He founded the American GI Forum in 1948 to address the needs of veterans and their families for health care, education and employment.
The Dr. Hector P. Garcia Memorial Foundation is appreciative of this distinguished honor of inviting its president to speak about Dr. Garcia for this historical event.
The Dr. Hector P. Garcia Memorial Foundation welcomes all donations and contributions. To make a contribution visit:
https://drhectorpgarciafoundation.nationbuilder.com/contributions.
About the foundation:
The Dr. Hector P. Garcia Memorial Foundation was formed under the guidelines and rules of the IRS non-Profit 501(c)(3) and is a recognized non-profit corporation by the state of Texas. The Foundation was organized to educate state-wide and national communities about the continuing historical relevance and legacy of Dr. Hector P. Garcia and to encourage, promote and foster the continuation of his ideals through establishing charitable projects and educational scholarships, and by working with various universities, colleges and schools to support those whom the Foundation believes share and actively strive to promote the same ideals that Dr. Garcia held so dear.
The Dr. Hector P. Garcia Foundation continues to strive to promote Dr. Garcia's legacy by awarding scholarships to educational institutions that represent the goals of the Foundation. Additionally, their ambitious agenda includes raising funds for a Dr. Hector P. Garcia Memorial Wing and Learning Center at Texas A&M University-Corpus Christi to house Dr. Garcia's voluminous papers, photographs and memorabilia that represents his lifelong devotion to this country.