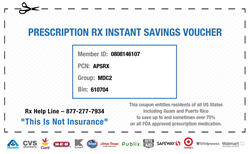 By 2012, there were 21 million people diagnosed with diabetes in the United States. The cumulative costs of the disease's impact were estimated at $245 billion.
Atlantic City, NJ (PRWEB) November 03, 2014
This November, Medicationdiscountcard.com (MDC) will highlight its discount cards for diabetic medications. In acknowledgement of Diabetes Awareness Day — November 14 — MDC features cards for five specific diabetes drugs.
Metformin (Glucophage)
Among the most common medicines used to treat Type II Diabetes in the United States, Metformin (Glucophage) suppresses glucose production in the liver to prevent hyperglycemia. It is also used as a treatment for Polycystic Ovary Syndrome (PCOS). Although costs to consumers for Metformin have decreased over the years, many patients are often prescribed the medicine over a very long period of time. The costs add up. Metformin discount cards can help and are available at MDC.com.
Farxiga (dapagliflozin)
Approved for use in Type II Diabetes treatment by the FDA in 2014, Farxiga is used in conjunction with diet and exercise. Farxiga can help improve glycemic (blood sugar) control in patients, inhibiting reabsorption of glucose by the kidneys. Without a generic version currently available for Farxiga, costs of the medicine to the uninsured or underinsured can be significant. MDC.com offers a Farxiga discount card.
Actos (pioglitazone)
Another medicine used to treat Type II Diabetes, Actos acts to keep blood glucose levels within normal ranges by increasing the body's sensitivity to insulin. It also decreases the amount of glucose released by the liver. There are generic versions of Actos available on the market. Using an MDC.com Actos coupon can save consumers money.
Byetta (a type of exenatide)
Used to treat Type II Diabetes, Byetta is a prefilled pen of injectable medicine. It works in several ways, such as allowing the pancreas to more efficiently produce insulin. It is often used in combination with other medications. The production of Byetta is currently controlled by patent, and there is no generic form available. The use of a Byetta coupon can reduce the costs of the medication.
Januvia (sitagliptin phosphate)
Taken orally, Januvia is prescribed to help treat Type II Diabetes. It regulates the amount of sugar released by the body after eating, thus helping to stabilize and control blood sugar. Controlled by patent, there are no generic versions of Januvia. Consumers can use a Januvia coupon to lower the costs of this medication.
By 2012, there were 21 million people diagnosed with diabetes in the United States. The cumulative costs of the disease's impact were estimated at $245 billion. Managing the financial burdens of prediabetes, as well as Type I and Type II Diabetes treatment, is an ever-increasing problem for consumers. Access to simple solutions, like discount cards for medicines, is vital.
Note: The information above is intended to supplement, not substitute for, the expertise and judgment of your physician, pharmacist or other healthcare professional. It should not be construed to indicate that use of the drug is safe, appropriate, or effective for you. Consult your healthcare professional before using this drug.
About Medicationdiscountcard.com
Medicationdiscountcard.com was started to provide discounts on prescription drugs to those who need it most. Our goal is to provide you with the largest savings possible when compared to other cards. We invite you to compare the savings our card will provide to that of other leading providers.