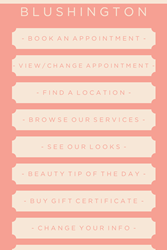 Newport Beach, CA (PRWEB) October 31, 2014
Blushington is proud to announce that their new mobile app is now available for free on the App Store.
The new app was designed to increase functionality of Blushington's website from mobile platforms and enhance the overall user experience. Users will be able to use the app to book, view and change appointments. It also lets users browse services, view location details and route directions, see new looks and get daily beauty tips. The app also has social media integration through its "Take a Photo" function that automatically adds the #Blushington hashtag to Facebook, Instagram and Twitter posts.
As the market leader of the makeup and beauty industry, Blushington offers complete makeup applications that are natural looking, membership packages, membership discounts on products and makeup tutorial classes for both adults and teens at their three posh, yet affordable locations found in West Hollywood, Newport Beach, and Dallas.
About Blushington
Blushington is at the forefront of the makeup and beauty industry and strives to provide professional makeup applications at affordable prices in a well-designed and fun atmosphere. The company has locations in West Hollywood, Newport Beach and Dallas. For more information, visit http://www.Blushington.com.