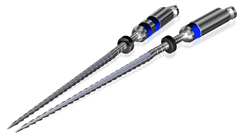 South Hackensack, New Jersey (PRWEB) February 24, 2015
Essential Dental Systems (EDS) is proud to announce a new endodontic system; Tango-Endo. With new Tango-Endo, it only takes two instruments! Tough and reusable Tango-Endo instruments boast a unique patented flat along the entire length. This flat, allows for faster engagement with less resistance, increased flexibility without sacrificing strength, and virtually eliminated instrument separation.
The Tango-Endo system includes its own reciprocating handpiece. The latch-type handpiece is designed to aid in the prevention of binding, and to assist in the preservation the canals unique anatomy. The kit also includes precision matched gutta percha points – for a perfect fit every time.
The Tango-Endo Introductory Kit is available immediately through dental dealers worldwide.
For more information visit http://www.edsdental.com/tangoendo or call 201-487-9099