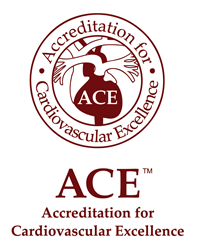 ACE can coach you to be the best possible team to provide the best possible care for your patients. -- Christopher White, MD, ACE Director
WASHINGTON, DC (PRWEB) November 03, 2014
The Accreditation for Cardiovascular Excellence (ACE) will celebrate its expansion within the field of peripheral vascular (PV) interventions by exhibiting at the 2014 Vascular Interventional Advances (VIVA 14) Annual Conference at the Wynn Las Vegas in Las Vegas, NV, from November 4-7, 2014. VIVA 14 will include timely updates on the care of patients with vascular disease for a multidisciplinary audience of interventional cardiologists, vascular surgeons, radiologists and vascular medicine specialists
ACE currently offers accreditation programs in Carotid Artery Stenting as well as Diagnostic Catheterization and Cath/PCI. Earlier this year, ACE announced new accreditation and external quality review services for four catheter-based cardiovascular procedures, including PV interventions.
Be sure to follow our meeting coverage on Twitter (@ACE_CVEXCEL) and stop by the ACE exhibit (Booth #3) to request a copy of the new PVI Accreditation Standards and get information on quality sessions. Examples of sessions that focus on quality metrics in vascular care, all on Monday, November 3, include:

What Are the Most Important Measurable Outcomes for Critical Limb Ischemia (CLI) Treatment? How Should Devices and Therapies Be Best Evaluated? (10:59-11:07 am)
Knowing the Language: Creating a Common Lexicon for CLI (11:15-11:23 am)
ACE is also proud to announce the release of a new video that joins the growing series of expert commentary on ACE Accreditation services. In the newest video, Christopher White, MD, MSCAI, FACC, FAHA, FESC, ACE Director and Medical Director of the John Ochsner Heart & Vascular Institute at the Ochsner Clinical School in New Orleans, LA, explores the value of ACE accreditation for PV interventions.
According to Dr. White, catheterization laboratories should consider peripheral vascular services as essential elements of comprehensive care. "Our patients are symptomatic and they need to be helped," Dr. White said.
How can ACE help facilities that are interested in implementing the highest standards of care for patients with PV disease? "ACE acts like a coach," Dr. White explains in the video. "ACE can coach you to be the best possible team to provide the best possible care for your patients ."
Watch the full video here: http://youtu.be/ZRen_uEq-Z8
About Accreditation for Cardiovascular Excellence (ACE)
ACE is the global leader in accreditation and external quality review services for all catheter-based cardiovascular procedures. ACE, an independent organization sponsored by the Society for Cardiovascular Angiography and Interventions (SCAI) and the American College of Cardiology Foundation (ACCF), offers independent evaluation and monitoring of facilities that provide cardiovascular care. By reviewing facility and operator performance and comparing clinical decision-making to nationally accepted best practices, ACE quality review and accreditation services play a critical role in continuous quality improvement programs. Join us. Let us exceed your expectations and provide a free consultation. Contact ACE at info(at)cvexcel(dot)org or call our office at 202.657.6859 or visit our website at http://www.cvexcel.org.