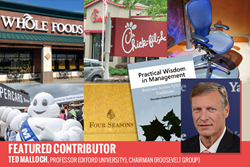 It is ever more important to develop our understanding of this relationship among practical wisdom, virtue and business, since it is underdeveloped in current scholarship within the fields of business ethics and economics
San Francisco, CA (PRWEB) October 30, 2014
WorldReligionNews.com, one of a new breed of technology enabled religious news sites, publishes its latest 'Featured Contributor' article, "What Companies Like Chick-fil-A Can Teach Us About Religion's Influence on Corporate Leadership," by Ted Malloch, Oxford University Professor and Chairman of The Roosevelt Group, focused on his latest book, Practical Wisdom in Management.
The article explores how spiritual traditions play a role in modern times, specifically in businesses. Malloch says "religious traditions also offer also a wealth of practical wisdom through the proverbs, tales and parables in the Holy Books, Commentaries and beyond, in the teachings on individual and social responsibility, on the relationship of the material and the immaterial in the economy, and in the oral traditions on how humans shape the world by the spirit they project on it."
Malloch describes one of his reasons for authoring Practical Wisdom in Management: "It is ever more important to develop our understanding of this relationship among practical wisdom, virtue and business, since it is underdeveloped in current scholarship within the fields of business ethics and economics." Twenty-four case studies are presented in the book which give evidence of spiritual capital and practical wisdom in action. Some of the businesses named are Cargill, Whole Foods, Chick-fil-A, and Dannon.
Theodore Roosevelt Malloch teaches at Saïd Business School at Oxford University and previously at Yale University. He is also the Chairman of The Roosevelt Group, a leading management and thought leadership company. He has served on the executive board of the World Economic Forum and has worked for the UN and the US State Department.
WorldReligionNews.com has established its 'Featured Contributor' program to offer both writers officially affiliated with all faiths and belief systems, as well as independent writers, bloggers, journalists and authors of note, a public platform from which to publish religion focused articles that will reach not only WRN visitors but also appear via 3rd party content syndication partners on sites like CNN, FOX, New York Daily News and others.
If you are an officially affiliated spokesperson/writer for a particular religious organization or, a prominent writer, blogger journalist of note who would like to be considered for a 'Featured Contributor' article placement on WRN, contact us here: http://www.worldreligionnews.com/guest-blogger-submission/.