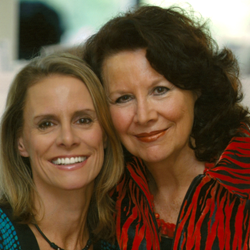 "Without CaringBridge, I can't imagine how I would have connected with the army of people she left behind who wanted to keep tabs on her condition," Amanda Lamb.
Eagan, Minn. (PRWEB) November 03, 2014
From hospitals to clinics to dinner tables, Americans across the country will show appreciation for caregivers this November as part of National Family Caregivers Month.
The month-long observance, organized by the Caregiver Action Network, spotlights the contributions and sacrifices made by caregivers of all backgrounds to families and ailing loved ones. First observed as National Family Caregivers Week in November 1994, the celebration has since grown into a full month.
The organization estimates that more than 65 million Americans provide some kind of medical care for a loved one or family member. According to the Caregiver Action Network, family caregivers provide an estimated $375 billion of uncompensated care for loved ones each year.
"Caregivers are an integral part of the healing process," says Sona Mehring, founder and CEO of CaringBridge, the nonprofit organization dedicated to connecting people with their community of support when they need it most. "Having someone by your side through a difficult time sends a powerful message of love and support, which is why recognizing caregivers is so important."
One such caregiver is Amanda Lamb, an author and television journalist based in Raleigh, North Carolina. Amanda was by her mother Madeline's side when she was diagnosed with a terminal brain tumor – and she cared for her through her eventual passing.
Lamb used CaringBridge to share updates about her mother's illness with a wide network of family, friends and loved ones. As part of her caring process, Lamb moved her mother from her longtime Pennsylvania home to North Carolina.
"Without CaringBridge, I can't imagine how I would have connected with the army of people she left behind who wanted to keep tabs on her condition," Lamb says. "I read the comments to my mother every night, and I truly believe she was able to understand what she had meant to people, how she had touched their lives in so many ways. Knowing these truths gave her a solace in dying that I'm not sure could have been achieved otherwise."
Lamb's memoir The Living Room documents the 80 days she spent caring for her mother. Her experience inspired her to share her "Top Six Tips for Caring for a Caregiver."
1. Ask what the caregiver needs before jumping in. "Often someone has very specific needs that can make a huge difference in her life or the life of her family during this difficult time," Lamb says. "You may be surprised that it may be something as simple as running an errand."
2. Meals are always helpful, but have a plan. "Too much food can overwhelm the family, and it will ultimately be thrown out if it is not used in a timely manner. I suggest using the CaringBridge Planner to schedule meal delivery from friends who want to help."
3. Child care is often the greatest obstacle. "Caregivers tend to be predominately women, and women can't just stop caring for their children when a parent becomes ill. They have to do it all. Something as simple as rides to and from school or activities can be a huge help to the overburdened, exhausted caregiver," Lamb says."
4. Listen. "Caregivers don't have a lot of people they can vent to. Often, the parent they are caring for was a mentor and a source of support for that person," Lamb says. "My closest friends came for a visit ready to listen. They simply listened to my fears and concerns without judgment and offered their unconditional support."
5. Find your Zen. "People always used to ask me: 'Are you taking care of yourself?' This is a tough one, because things the caregiver previously did may not hold the same enjoyment given the emotions surrounding the situation. But everyone has their own 'Zen,' if you will: the thing that gives them peace even in impossibly difficult times. For me, it has always been running. Encourage the caregiver to find a small piece of time in every day or week to include their 'Zen.'"
6. Don't ignore holidays or milestones. "Don't have great expectations for the holidays when a person close to you is ill, but also don't ignore the significance. It is important to recognize it for what it is: bittersweet," Lamb says.
"As we move through November, show someone who's giving care love and support – and lend a hand," Mehring says. "You'll make a world of difference for someone who's giving their all."
About CaringBridge
CaringBridge is a nonprofit organization created so people experiencing a health journey can remain connected to their family and friends. Its mission is to amplify the love, hope and compassion in the world, making each health journey easier. CaringBridge, started in 1997, provides free websites with customized security settings and is completely ad-free. More than 43 million people visited the site in 2013, and half a million people connect through CaringBridge every day. For more information, visit http://www.CaringBridge.org.