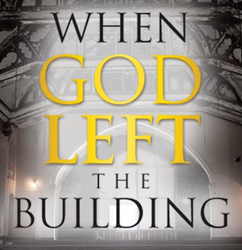 "The American church as we know it is dying. What was once the heart and soul of the community is shrinking. The majority of churches across the country are either stuck or in a state of decline." -- Thom Schultz
Loveland, CO (PRWEB) November 03, 2014
A new documentary providing a candid examination of why most churches in America are in decline will be shown at the St. Louis International Film Festival, which runs November 13-23, 2014.
The film, titled "When God Left the Building," will be screened November 23 at the Plaza Frontenac Cinema in Frontenac, MO. The film's director, Thom Schultz, will accompany the film and lead a live talk-back session following the screening.
"The American church as we know it is dying," said Schultz. "What was once the heart and soul of the community is shrinking. The majority of churches across the country are either stuck or in a state of decline. Weekly church attendance has dropped to 20 percent of the population, and this trend has resulted in the closing of 4,000 churches per year."
Filmmakers spent three years documenting a church that saw its attendance plunge by 90 percent. "It was a heart-wrenching mash-up of societal upheaval, spiritual confusion and human conflict," Schultz said.
Some people point to the rise of megachurches as an example of church health. However, some people in the film question if big is better. Tony Steward, former megachurch staffer, said large churches generate a "culture of numbers."
"When churches like this begin to gain momentum they can start to do what is best for the organization, not what is best for who they are as a church," he said.
Schultz said the film also show several examples of churches breaking "the old mold" and finding new ways to "be the church" in a changing culture.
"Part of their secret is expanding their efforts outside of Sunday morning," he said. "And that's where we derived the title of the film."
The 2014 St. Louis International Film Festival is set to run Nov. show over 200 films from around the world including, feature films, documentaries and shorts. The festival will run November 13-23 and averages and annual attendance of over 20,000 people.
A preview of the film is available at WhenGodLeftTheBuilding.com.
Tickets to the 2:20 p.m. film screening on November 23 are available at WhenGodLeftTheBuilding.com and at cinemastlouis.org.
The film was produced by Group Productions, a Colorado-based media company.
Questions about the documentary may be directed to Becky Hodges at (970) 292-4245 or bhodges(at)group(dot)com
###
Images and interviews are available upon request.