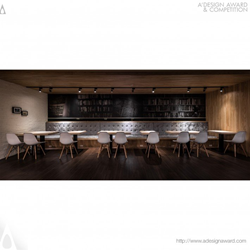 Como, Italy (PRWEB) October 31, 2014
A' Design Award and Competition is pleased to announce that the restaurant interior design project Lohas by Yu Wen Chiu has been granted the Golden A' Design Award in Interior Design Competition.
Winner Interior Design: Lohas
Yu Wen Chiu, the lead creator of the awarded interior design work Lohas said, "The restaurant is located in a busy traffic intersection. The overall spatial plan aims to create a feeling of calm pace for slow dining experience. The open space is divided to different functional areas through small changes in decoration. For the interior design, classical yet modern wooden furniture is used to create a cozy feeling to the space." Learn more at: http://www.adesignaward.com/design.php?ID=29726
The Golden A' Design Award
The Golden A' Design Award is a prestigious award given to top 3% percentile designs that has delivered an exemplary level of greatness in design. The designs are judged by a 50-person jury panel composed of academic, professional and media members. Entries to the A' Interior Design Awards are peer reviewed and anonymously voted to ensure fair judging. Laureates of the interior design accolade are given a series of PR, marketing and publicity tools to celebrate the status of winning the design accolades. Award winners are able to access and use platforms such as Salone del Designer or the Design Mediators to reach new audiences and clients. Award winning works are exhibited internationally in multiple cities across the globe. Laureates are invited to the black-tie award ceremony in Italy to collect their design award trophies, yearbooks and certificates.
About A' Design Award and Competition
A' Design Award and Competition aims to highlight the excellent qualifications of best designs, design concepts and design oriented products from all creative disciplines from all countries. A' Design Award and Competition is organized and awarded annually and internationally in multiple categories to create a global awareness for good design practices and principles, the ultimate aim of the design competition is to push designers and brands worldwide to create better products that improve the quality of life. Learn more about the A' Design Awards at: http://www.whatisadesignaward.com