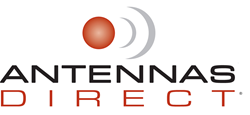 We count on cable executives to stay the course – continuing their poor customer service and inflated prices
St. Louis, Missouri (PRWEB) November 04, 2014
Cord cutting is the new reality for a growing number of American families. The permanence of this trend among television watchers is reflected in the sharp sales spike for Antennas Direct. This past quarter, the company has doubled in units shipped over the previous year. Growth, however, is not a stranger to Antennas Direct – for the seventh year in a row, the St. Louis-based antenna manufacturer is among the elite list of Inc. 5000 Fastest Growing Companies.
"We sold more antennas in September than we did our first four years in business," says Richard Schneider, president of Antennas Direct. "Most companies with this spike in sales would rely on a large advertising campaign, but we stick to our growth strategy: we make great antennas, ship them to retailers, and do nothing. We count on cable executives to stay the course – continuing their poor customer service and inflated prices."
Last year, pay-television providers collectively lost over 1.7 million subscribers and that number is only expected to grow. A majority of Americans worry cable company mergers will make customer service even worse. Schneider says this level of suspicion and frustration explains why Antennas Direct's unit volume has doubled over 2013. And with more Americans cutting the cord each day, Antennas Direct predicts the growth to accelerate for 2015. Another milestone for Antennas Direct is that they have added nearly $1 billion to the disposable income of Americans.
Antennas Direct released two new products this year, the ClearStream Eclipse and the DB4PRO, and has more scheduled for release before the end of 2014. To learn more about the latest technology from Antennas Direct, check out the products on http://www.antennasdirect.com/store.
About Antennas Direct
Antennas Direct is the leader in antenna technology, reinventing the antenna for the digital era. With a heritage in over-the-air antennas specifically tuned for core DTV frequencies, Antennas Direct has invested major resources into the discovery and implementation of new antenna designs for digital reception. Founded in 2003, the firm is a member of the Inc. 500|5000 Hall of Fame and Future of TV Coalition. Visit antennasdirect.com for more information.
###