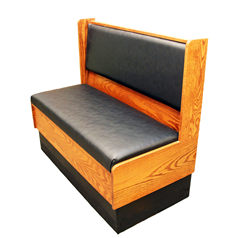 Mercer, PA (PRWEB) October 31, 2014
East Coast Chair & Barstool's in-house production has grown in part because of the booming Amish restaurant booth business at the Mercer, PA location.
"A lot of our customers were looking for restaurant booths, and we wanted to be able to meet those needs," Operations Manager Beth Willison said. "When we looked at the other manufacturers' products, we knew we could make the booths better and sell them for less. That's what our customers deserve."
In-house production is now representing 24% of sales of items sold from the Mercer, PA location, with additional growth on the horizon. Much of this revenue has been driven from the line of quick ship booth options that East Coast Chair & Barstool makes on site and stocks for fast shipping to customers looking for a standard booth option. Short lead times help when customers are in a hurry to make a grand opening date. However, customers can also work with the production team to create some custom options.
The Amish craftsmen working at the company's facility handcraft all parts of the booths from made-in-America materials. Booths feature a solid wood and plywood corner block construction, which is glued, screwed, and stapled. Strong Leggett & Platt no sag springs and connecting wires are utilized for the ultimate in durability.
From an industrial chic café to an Irish pub, these booths can enhance any atmosphere. With 85 different Naugahyde vinyl color options, there are an immensely large number of color combinations the company can formulate. East Coast Chair & Barstool also has wood trim, wood styles, new models (Wilmington/Volant), and custom options available for enhancing a variety of environments. New shapes and sizes are also being added to the product line, constantly expanding customer options.
Barbara Pagelopoulus, owner of the B3 Breakfast & Burger Bar in Washington State, is still enjoying her custom booths after a year. "Everything is working really well and we are very happy with our booths," said Pagelopoulus.
For more information, visit http://www.tableschairsbarstools.com or follow us @TablesChairBar on Twitter and Pinterest.
About East Coast Chair & Barstool:
East Coast Chair & Barstool is a national e-commerce retailer of commercial-quality furniture. With four ecommerce sites, an eBay store, and a growing social media presence, East Coast Chair & Barstool ships to the 48 continental United States and offers on-site manufacturing of restaurant booths and solid wood tables designed for commercial use at bars, restaurants, and cafes.