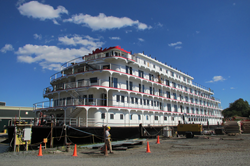 Guilford, CT (PRWEB) November 03, 2014
American Cruise Lines (http://www.americancruiselines.com) announced today the latest development in the construction of its newest paddlewheeler, the American Eagle, as it nears completion at Chesapeake Shipbuilding in Maryland. At six weeks ahead of schedule, construction of the new riverboat is moving into its final stages.
Currently in final outfitting, the interior is well underway with carpeting and furniture soon being installed throughout the ship. All sliding glass doors leading to the private balconies are in place and exterior painting is just about complete. In recent weeks, all the electrical was installed, while installation of the paddlewheel, wood work trim and other architectural details are up next to bring the period interior and exterior to life.
The American Eagle, which enters service in the spring, will carry 150 guests in the most spacious staterooms available on any Mississippi riverboat. Of the 84 staterooms, 78 feature large private balconies, all of which have sliding glass doors for optimal views and enjoyment. The new riverboat will offer all the amenities today's travelers expect, while maintaining the elegance of classic late 1800s riverboats.
American Cruise Lines will operate the new paddlewheeler primarily on the Lower Mississippi River between New Orleans and Memphis. A number of unique journeys are planned, including the recently announced 22-day Complete Mississippi Cruise.
Additional details on American Eagle's construction progress will be announced in the coming months.
About American Cruise Lines
American Cruise Lines is the largest U.S. cruise company and operates the newest fleet of riverboats and small cruise ships on more than 35 itineraries around the country. The line is known for working closely with guests and travel agents before, during, and after a cruise to create a highly personalized cruise experience. Long established and deeply experienced in cruise travel, American Cruise Lines has most recently received world-wide recognition as the first line to revive paddlewheel river cruising in America. To learn more about American Cruise Lines, visit http://www.americancruiselines.com or call 800-814-6880. Find us on Facebook at http://www.facebook.com/americancruiselines or follow us on Twitter at http://www.twitter.com/american_cruise.
###