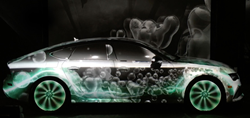 "With these experiences, our goal was to utilize 3D projection mapping and holographic technologies to tell a brand story in a fascinating way." Rich Cannava, VP, Executive Producer.
Paramus, NJ (PRWEB) November 04, 2014
Castrol will create buzz around their newest technologies and latest consumer product launches including Castrol GTX Magnatec with intelligent clinging molecules that protect engines from the start, Castrol EDGE synthetic motor oil with titanium technology, and the newly improved Castrol GTX High Mileage for vehicles with over 75,000 miles.
Vice President and Executive Producer, Rich Cannava and his team have created an engaging 3D projection mapping experience, along with 3D holographic displays that will attract crowds at the 2014 SEMA Show. The CSI Group utilized Cinema 4D, Adobe After Effects and D3 Designer to create content to project a brand experience directly onto a 2014 Audi RS7 Coupe. Unlike traditional projection mapping experiences, this unique execution will tell Castrol's brand story metaphorically, while incorporating moments of visual excitement, all set to a powerful backdrop of music and sound.
The CSI Group has also integrated into the exhibit the RealFiction Dreamoc HD3, a 3-sided holographic display, which showcases 3D product images. These displays, along with custom 3D video content, present Castrol products suspended in mid-air, inside a glass prism. The dynamic content will communicate brand imagery along with product features and benefits.
"With these experiences, our goal was to utilize 3D projection mapping and holographic technologies to tell a brand story in a fascinating way," Cannava said. "We will define Castrol's new technology claims, and draw foot traffic into the booth. A lot of planning and production time went into mastering these experiences and we're thrilled with the outcome."
The CSI Group has representatives at SEMA to oversee the installation and production of these unique experiences: Rich Cannava VP, Executive Producer; Kenny Eicher, VP, Executive Creative Director; and Kathy Marrazzo, Director, Account Services.
To keep up with the latest SEMA happenings, follow #SEMA2014 on social media and view behind-the-scenes photos of Castrol's SEMA exhibit at The CSI Group blog.
About the SEMA Show:
The Specialty Equipment Market Association (SEMA,) is an organization consisting of manufacturers, retailers, distributors, race teams and more. Acknowledged as a premier automotive trade event, the annual Las Vegas SEMA Show features specialty products including parts, tools and components from reputable automotive brands and is attended by over 60,000 auto enthusiasts and buyers from around the globe.
About The CSI Group:
The CSI Group is a creative and digital technology agency located in Paramus, NJ and has been providing brands with creative and experiences to tell their stories for over 20 years.
Kathy Marrazzo
Director, Account Services
The CSI Group
kathy.marrazzo(at)thecsigroup(dot)com
201-587-1400 or 201-621-4028